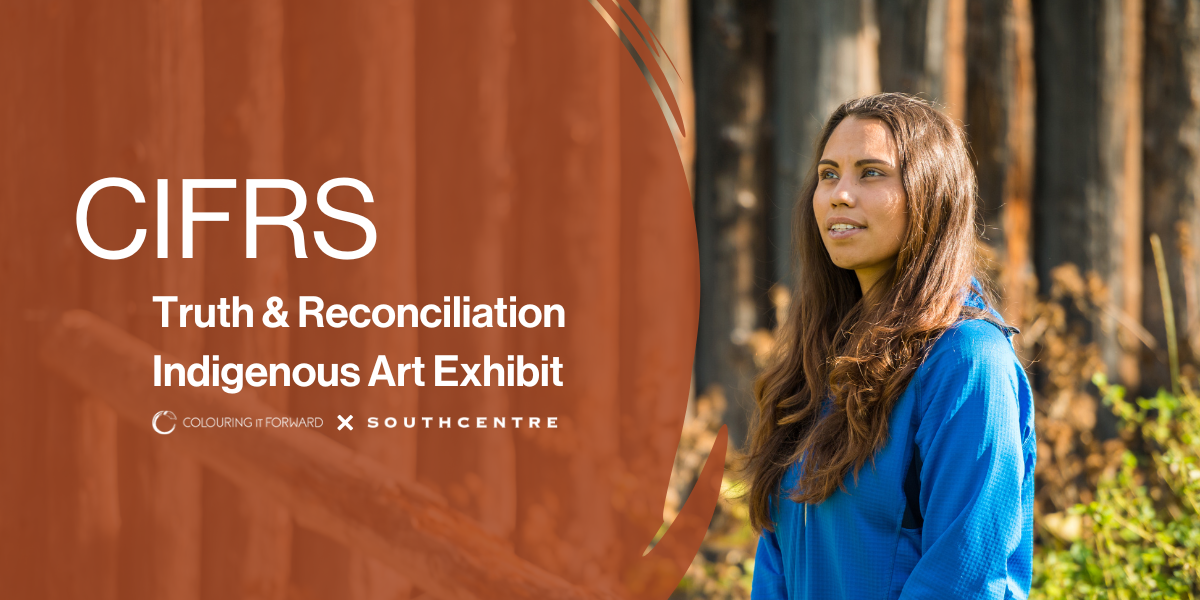 Explore Indigenous art in observance of September 30th.
Southcentre is honoured to continue our partnership with Colouring It Forward as we aim to inspire reconciliACTION in our community through art!
Working with Colouring It Forward Reconciliation Society, Southcentre Mall is proud to host a multi-week art installation leading up to National Day for Truth & Reconciliation. The exhibit will showcase a variety of works from 8 local Indigenous artists in Centre Court until September 30th. We invite you to stop by and learn more about how you can support reconciliation.
Thinking of Indigenous-Settler
relationships in new ways…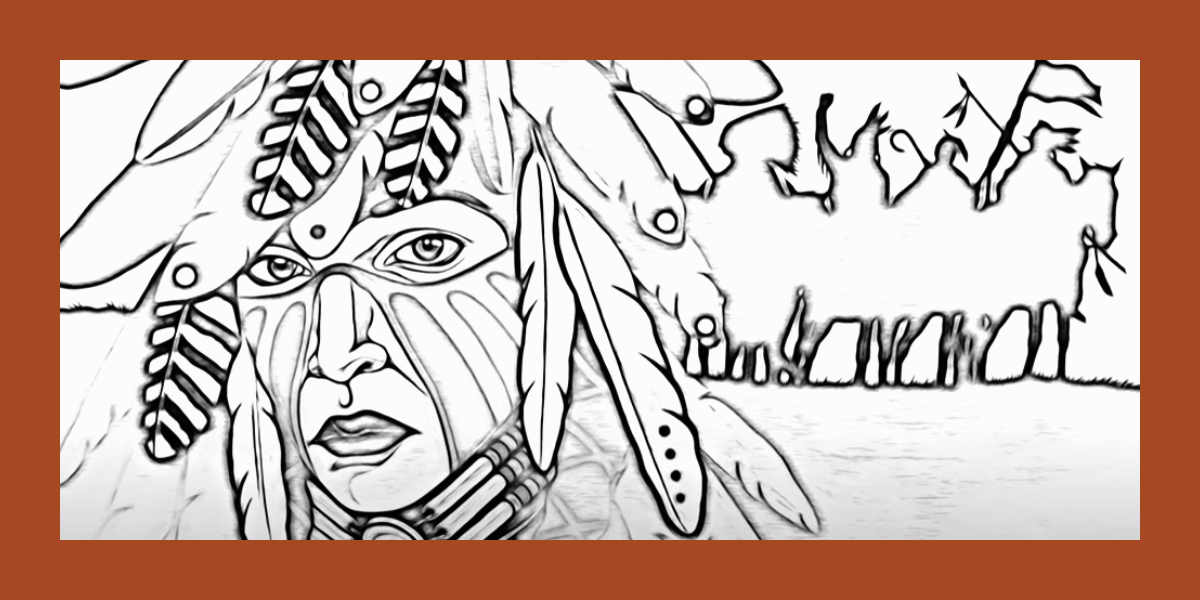 National Day for Truth & Reconciliation provides an opportunity to recognize and commemorate the tragic history and ongoing legacy of residential schools. It's an opportunity to honour the survivors, their families, and their communities. Striving towards reconciliation takes action, therefore, the artists from the CIFRS Truth and Reconciliation Indigenous Art Exhibit have provided suggestions for how people can respectfully participate in the process of reconciliation within their communities.
Image Gallery
Explore our ReconciliACTIONs
Find simple ways to get involved in the movement towards reconciliation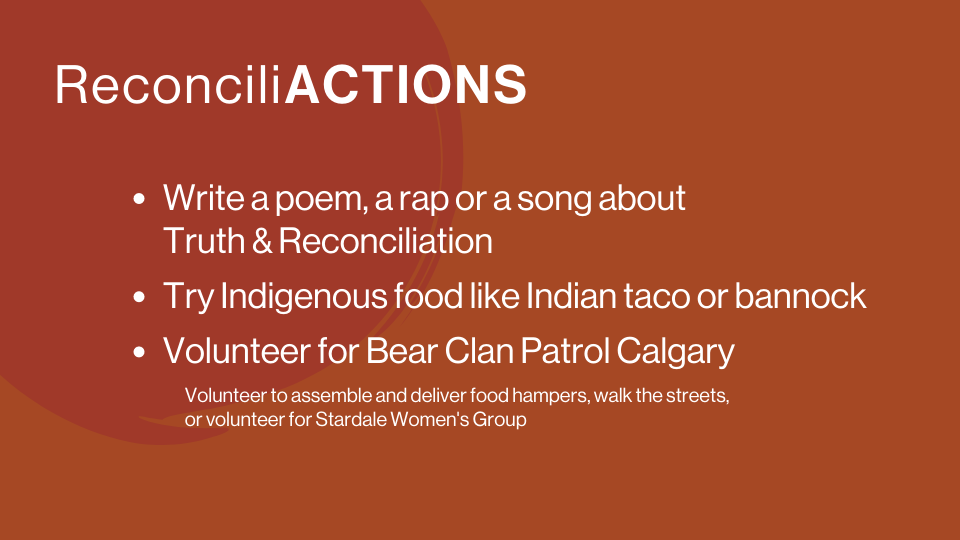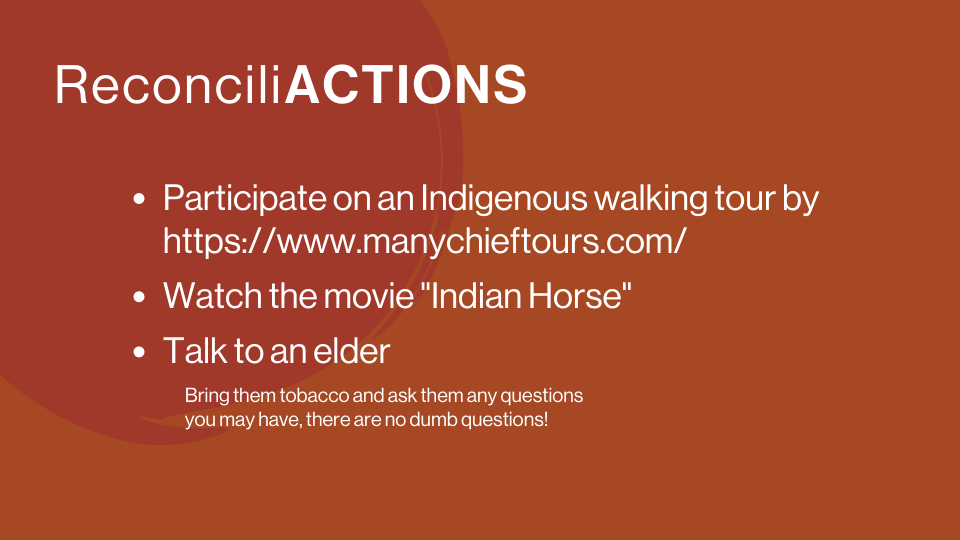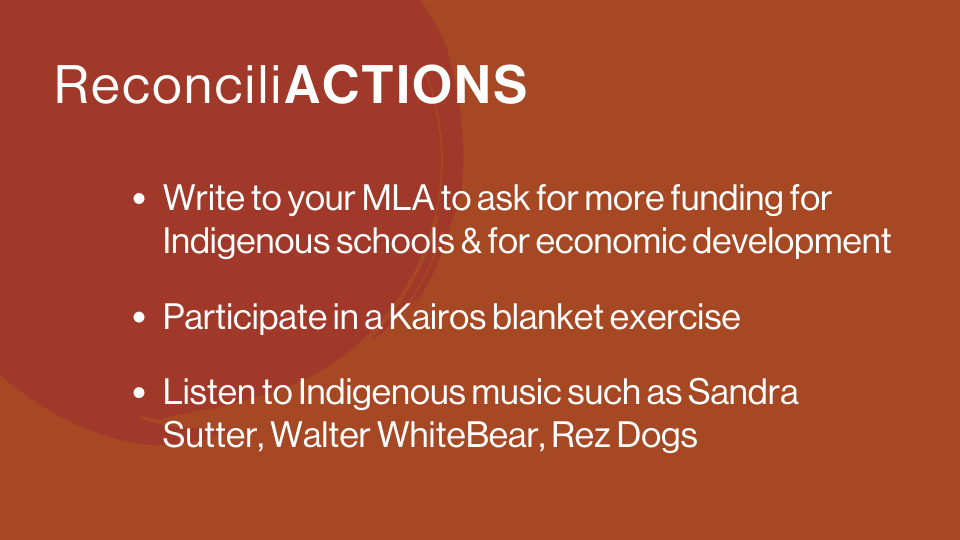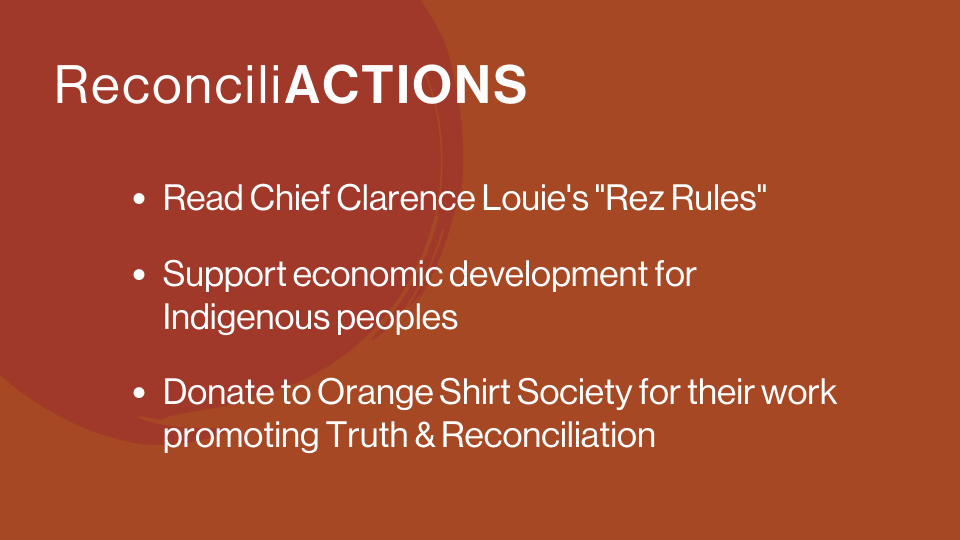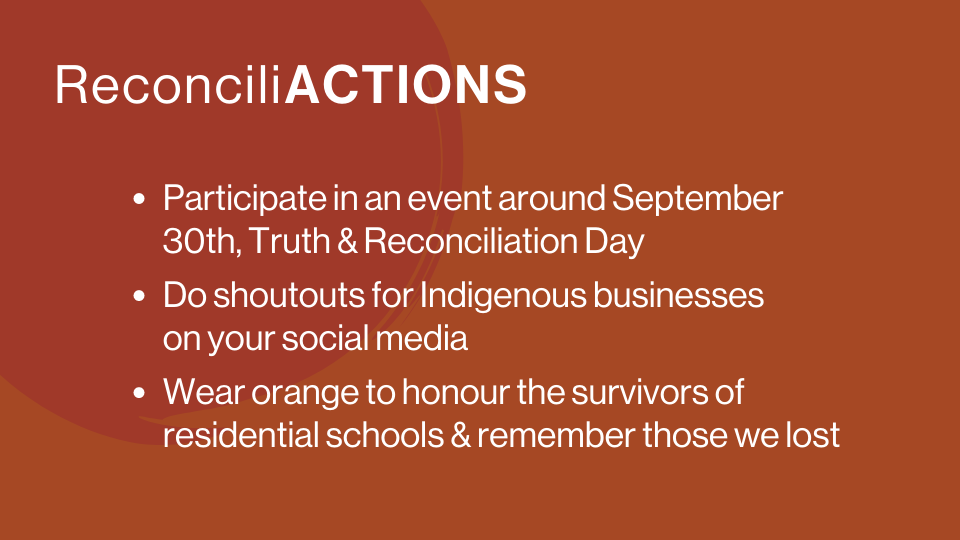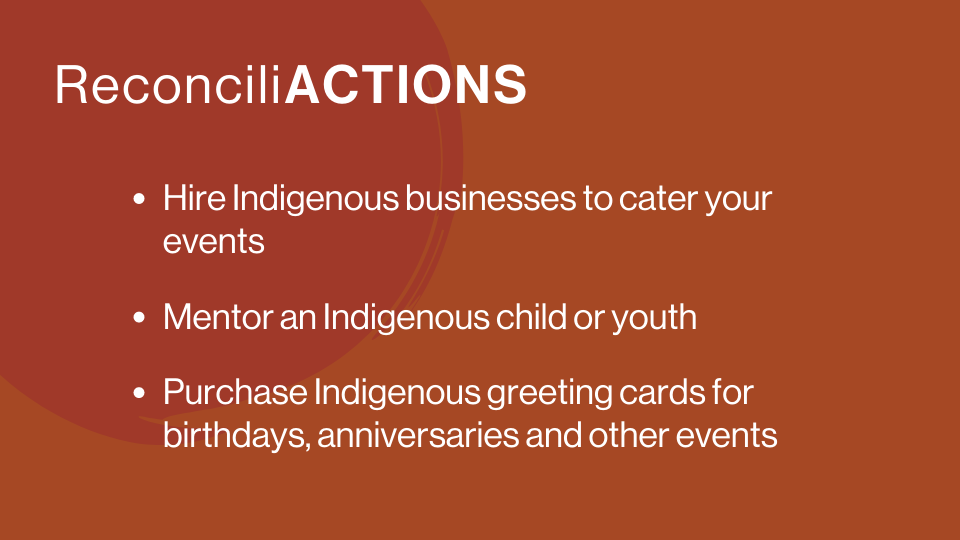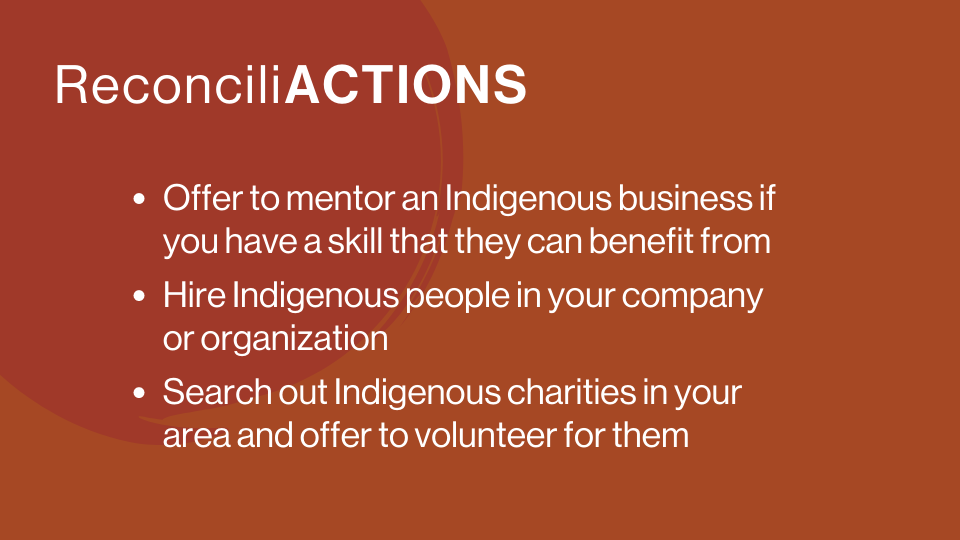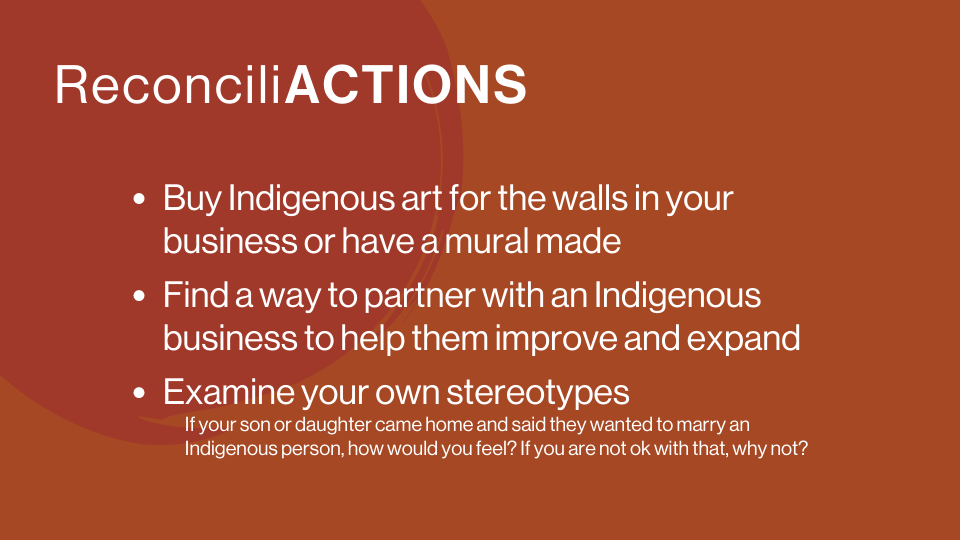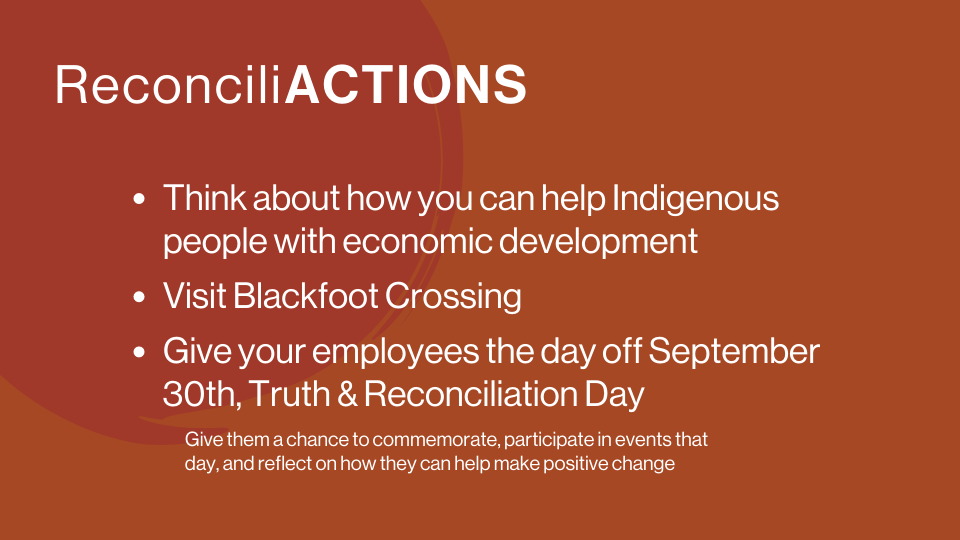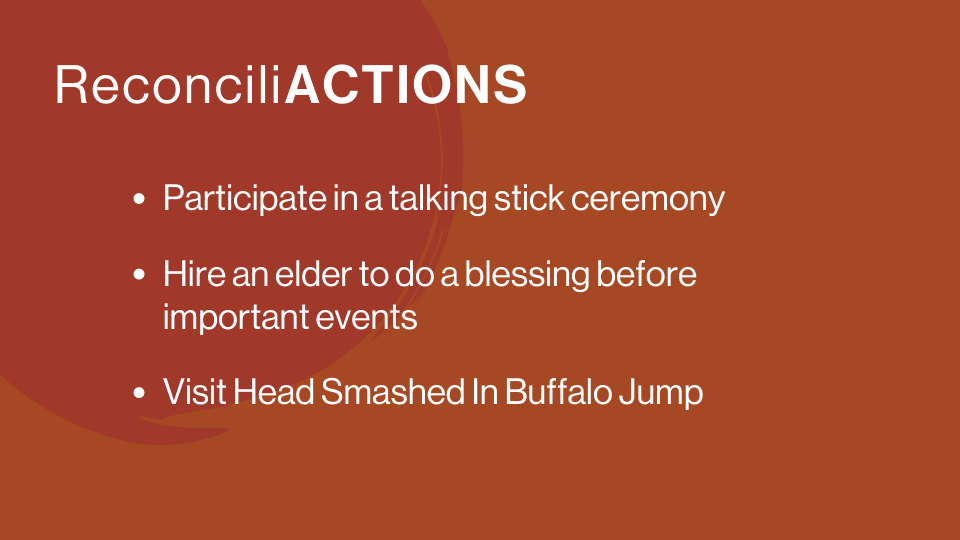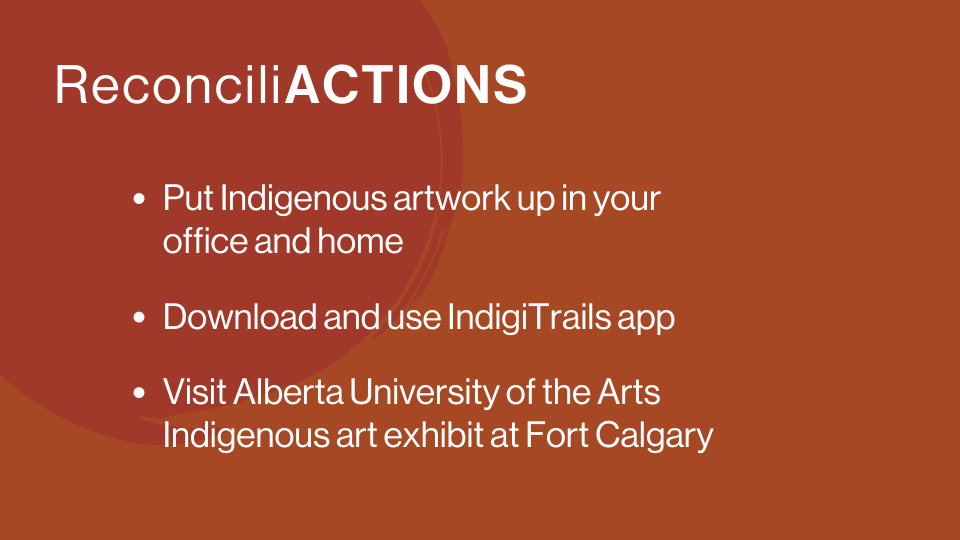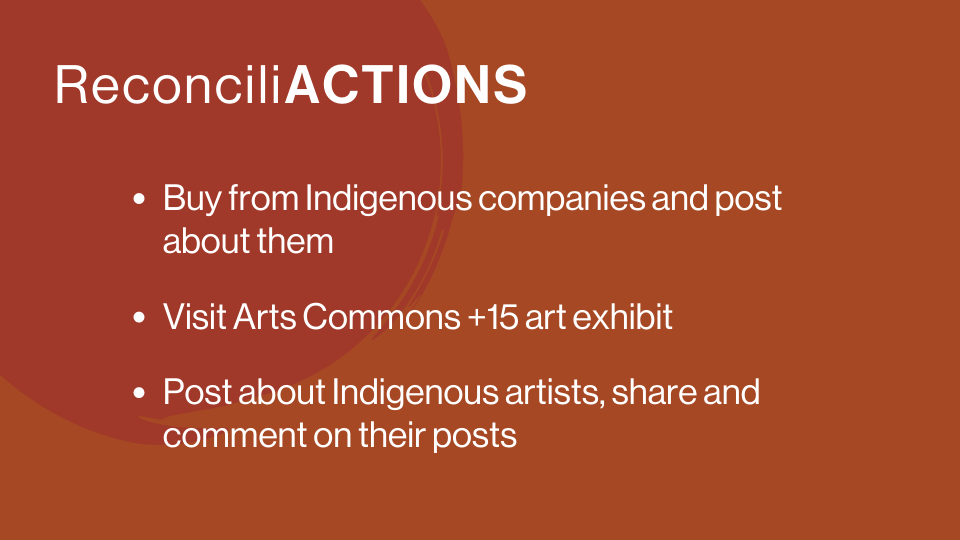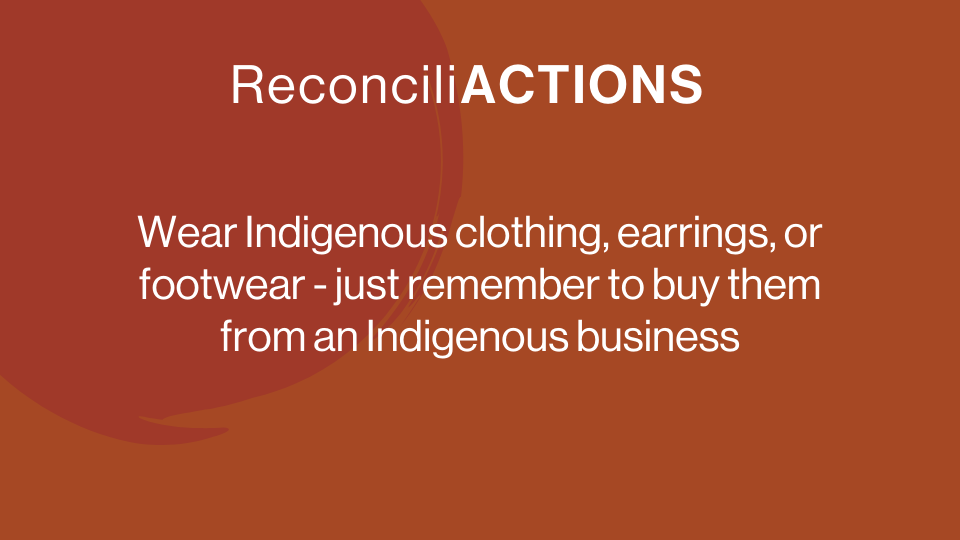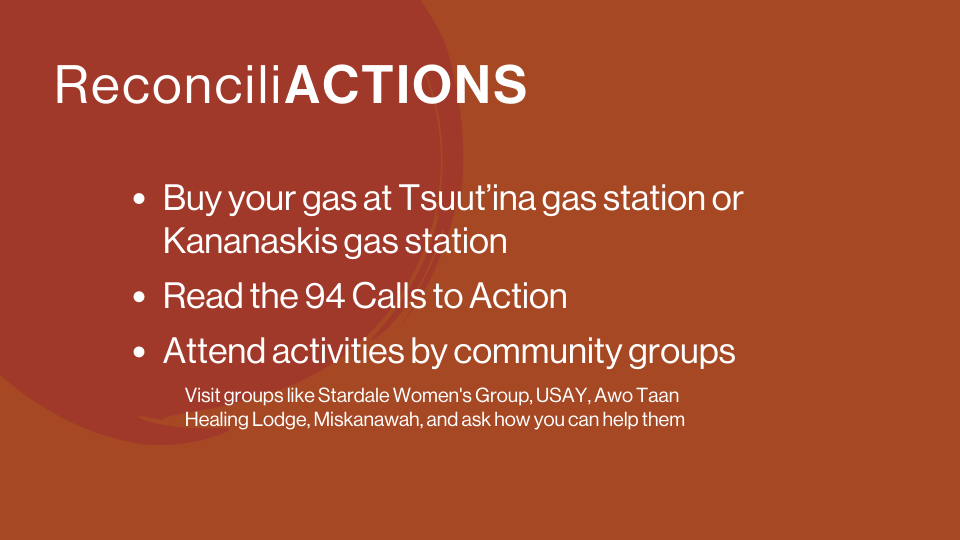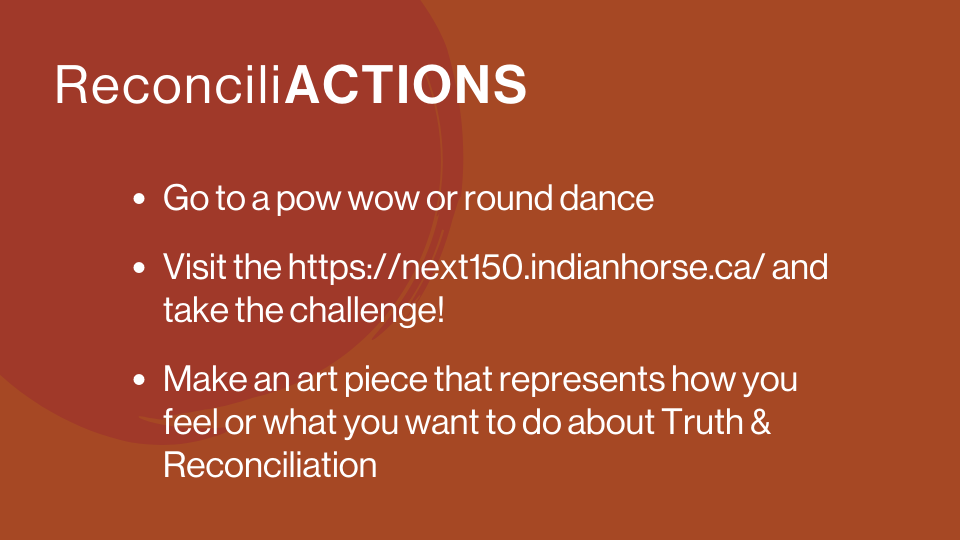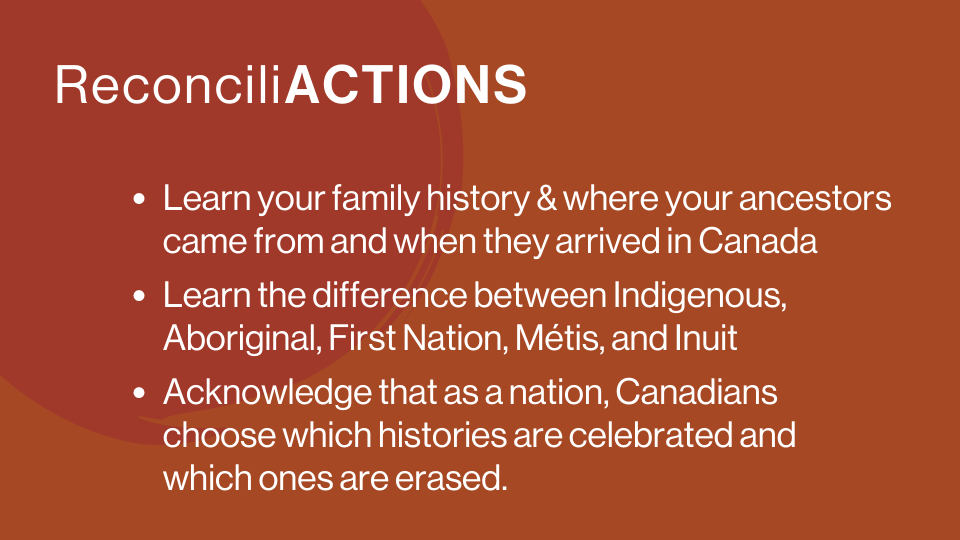 Collapsible Content
Meet the Artists
As an artist, Flora is passionate about her work. She has learned the importance of paying attention to the story each image reveals. She is a Survivor, Mother, Sister, Aunty, Grandmother, Warrior, and most importantly, a Spirit Holder. Flor is a member of the Mosakahiken Nation; from Manitoba. Flora was a 60s Scoop Survivor, but more importantly, she is a human being. Exuding kindness throughout her life is extremely important to Flora. Everyone breathes the same air and feels our surroundings. Each of her paintings captures a piece of her. Her paintings also invite you to be part of her journey. Flora was born in a difficult era; people were scared and hurt, & there were many secrets. She would like to share some words that she has learned since coming back home to Canada: Aaniin is Ojibwe for "I See Your Light," an expression of "Hello." Tansi is Cree for "How are you?" an expression of "Hello."
Lana Whiskeyjack is a multidisciplinary treaty iskwew artist from Saddle Lake Cree Nation, Treaty Six Territory, Alberta. Guided by her grandmother's advice, "Go to school, travel, and see as much as you can. Then return home to share what you learned, but do not forget where you came from." After graduating high school, the young mom moved to Red Deer to attain her Art & Design diploma, then moved to Ottawa with her growing family, attaining B.A. (Honours) and M.A (Canadian Studies) degrees. The story continues with returning to work near her home community and attaining her doctorate degree at University nuhelot'įne thaiyots'į nistameyimâkanak Blue Quills (UnBQ) in iyiniw pimâtisiwin kiskeyihtamowin, the first Indigenous owned and operated educational institution in Canada. Prior to 1970, UnBQ operated as Blue Quills Indian Residential School, where two generations of her maternal family attended. Lana's research, writing, and art explore the paradoxes of what it means to be nehiyaw (Cree) and iskwew (woman) in Western culture and society; and, how she and other Indigenous peoples are reclaiming, re-gathering, and remembering their ancestral medicine (sacredness and power). Her art is passionate and expressive, born from the deep roots of her culture, history, and intergenerational relations. Through the examination of sometimes difficult subjects, her art reflects the intrinsic beauty of her interconnections with the earth, the Cree language, and all living beings. She invites you to join her on the next chapter of her adventure.
As an archaeologist, she has always been curious about the material culture produced by her ancestors, in addition to traditional knowledge passed down through the generations. This curiosity led her on a path of discovery, to learn many different types of traditional Indigenous crafts. Inspired by artists such as Norval Morrisseau and Kent Monkman, she additionally explores Indigenous themes from a contemporary perspective through painting and photography. Her painting and digital art are primarily focused on the heavily symbolic Woodland Style of art. Her photography, on the other hand, is used as a form of activism to highlight Indigenous issues. During her career as an archaeologist, Autumn has worked and conducted research in Canada, Jordan, Ethiopia, Italy, and Iceland. She holds an M.A. in Anthropology from the University of Manitoba, a B.Sc. (First Class Honours) in Archaeology concentrating in Physical Anthropology from the University of Calgary, and a B.A. (With Distinction) in Greek and Roman Studies from the University of Calgary. Her specialties include mortuary ethnoarchaeology, the archaeology of pastoral nomads, human osteology and zooarchaeology, and traditional knowledge. Her current research revolves around the archaeology of body modification and she hopes to publish a book on this subject matter.
Nathan Patrick Meguinis, also known as Buffalo Boy, Traveling Rock, and Kindhearted Man, is an artist. One of Nathan's names was given to him at birth by his Great-great-grandmother, Bessie Inaa. Nathan earned the other two names over time. Nathan's artwork is a unique cultural and visual expression of his Tsuut'ina (Dèné Nation) way of life - which is part of the International Peace Treaty #7. His art, murals, animations, and illustrations are a unique contemporary stylization: a mix of abstract and realism that tells stories, historical events, or philosophy. Nathan has worked for the language department for three years, in which he creates artwork and language animations to help teach Tsuut'ina. Dèné Gunaha is his peoples Language. In his art, Nathan uses traditional ceremonial colours - each colour representing a unique part of his culture and beliefs. Nathan is deeply grateful to his parents, family, friends, and other Nation Members for their support, education, and influence.
Keegan Starlight is from the TsuuT'ina Nation, located 10 minutes outside Calgary, Alberta. He has been an artist for the past 20 years and a full-time freelance artist for the past seven years. Keegan is thankful for the love and support he receives from his wife and three children. All of Keegan's work is inspired by his cultural upbringing - striving every day to maintain authenticity and produce unique work. Most notably recognized as a portrait artist, Keegan has started focusing on animals as his main subject. The experimentation has also led him to work with negative space to bring images to life.
Gordon Wesley- is passionate about bringing the life of the wild into a still picture, that he can always have as a memory of his wildlife experiences. He is a proud Nakoda Stoney from the Bighorn Reserve, where he was inspired to create life on canvas. Living in a quiet Reserve in the mountains, Gordon can easily maintain his focus and concentrate on the essence of the wildlife of the Rockies onto canvas. As a child, Gordon loved to be outdoors and monitor the animals that inhabit his local geography and became curious about them and enjoyed their natural beauty. His passion for nature derives from the desire to capture the spirit of the wild in Art.
As a member of the Bearspaw First Nation, Keevin was born on the Blood Tribe reserve to Clifford and Kaye Rider. He was raised on the Eden Valley reserve located west of Longview Alberta in the foothills of the Rocky Mountains. Keevin is a self-taught artist – inspired by his love and respect for nature and the traditional ways of life. He began drawing at an early age, initially using it as a means of escape but now he creates to inspire others. After being invited to showcase his work at a conference he was inspired to pursue his goal of getting his artwork out on an international level. Today, you can find his artwork all over the world in numerous private collections – whether it's one of his amazing paintings or one of his beautiful custom wood-burned art pieces. Keevin's trademark signature is a unique representation of his identity. Resembling a tipi, the "K" from his initials has been turned around and placed back-to-back with the "R". The bear paw represents his Stoney Nakoda lineage of the Bearspaw Tribe with four dots to represent his four daughters. Keevin is the creative artist behind several murals located throughout Southern Alberta. His most recently commissioned mural, Story Tellers, is located in the Calgary Central Library's Indigenous Interpretive Centre.
Kalum Teke Dan's ancestry is of the Blood Tribe in southern Alberta. It is his connection to his traditional, spiritual, and cultural background that has inspired his body of work. He grew up in Calgary with his mom Joanne Dan, who has been supportive throughout his career that began in his teens. Kalum is primarily self-taught, developing his skills through observations, practice, and dedication to his craft. He works in oil, acrylic, and watercolour, choosing themes that reflect his unique perceptions of his spirituality and being indigenous in modern-day society. His designs represent his conceptualizations of the subjects he is painting, whether it is an individual, a group, animals, or a compilation. He has participated in large scale events throughout the years including showcasing at the Vancouver Community College during the 2010 winter Olympics, and the Calgary Stampede at the Western Oasis Showcase since 2016. His work is in the personal collection of several Canadian Premiers, international leaders and many of Canada's leading corporations and educational institutions. It has been displayed in art galleries across Canada and the U.S. He has enjoyed sharing his work at Indigenous conferences, pow wows, and events. In 2016, he created a body of work for a colouring book authored by Diana Frost, entitled "Colouring It Forward - Discover Blackfoot Nation Art and Wisdom" and he has been featured in her calendars, journals, jigsaw puzzles and clothing. In the past 5 years, he has created many large public art murals in Calgary and Edmonton. He has completed many murals with his own team but also in collaboration with emerging artists whom he has mentored. They included a mural for the Calgary Stampede Indian Village, a mural on an exterior wall at 17th Avenue Framing and the John Howard Society, as well as a large mural in the lobby of the new City of Calgary Public Library. He recently completed murals in Calgary City Hall, in the City of Calgary Police headquarters among others.
Orange Shirt Day
Orange Shirt Day was started by Phyllis Webstad in 2013 to "support Indian Residential School Reconciliation, to create awareness of the individual, family and community intergenerational impacts of Indian Residential Schools and to create awareness of the concept of "Every Child Matters" Truth and Reconciliation Day was declared this July as a federal statutory holiday to be honoured every year on Orange Shirt Day on September 30th.
This day is to honour the survivors of the residential school system who have fought and are still fighting to bring that terrible history to our attention. We walk to remember the thousands of children that died in residential schools. We walk to honour all Indigenous peoples as they reclaim and restore their identity, equality, and dignity. "We will walk to stand up for transformative social change that is so urgently needed in Canada," as inspired by the closing words of the Truth and Reconciliation Commission's Final Report.
Orange Shirt Day events also help Indigenous and non-Indigenous peoples to learn about current issues and to start collaborating on solutions by building awareness, dispelling stereotypes, building relationships and generating appreciation and support for our Indigenous peoples. We are better together, and it's through events like this art exhibit, that we can build bridges and unite our Indigenous and non-Indigenous communities of Calgary.