Pysanky Return to Southcentre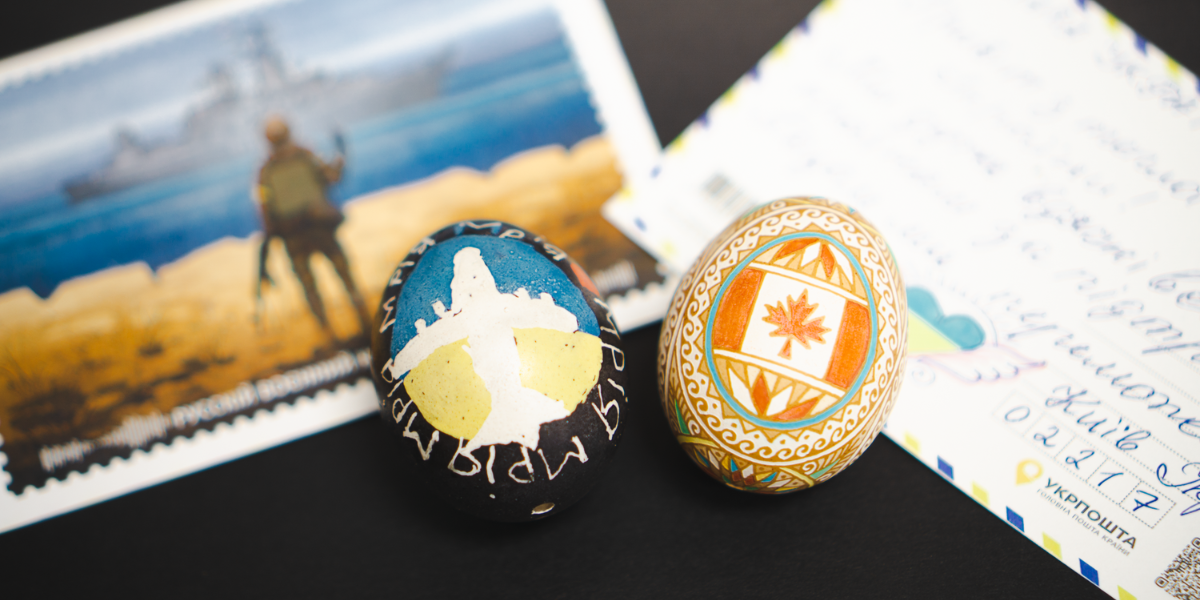 April 5th – April 30th
We are pleased to host our second annual 'Pysanky for Peace' fundraising campaign in support of humanitarian efforts for Ukraine. This initiative pays tribute to the Ukrainian Easter tradition of making or "writing" pysanky, carefully decorated Easter eggs featuring intricate designs in various styles and colours.
Explore 14 pysanky eggs of various sizes decorated by Ukrainian artists and cultural groups throughout the lower level of centre court. At the end of April, the eggs will be auctioned off, with all proceeds going towards two local Ukrainian support organizations, WUNDERfund and the Ukrainians of Calgary Association ("UOCA").
Image Gallery
Pysanky for Peace 2023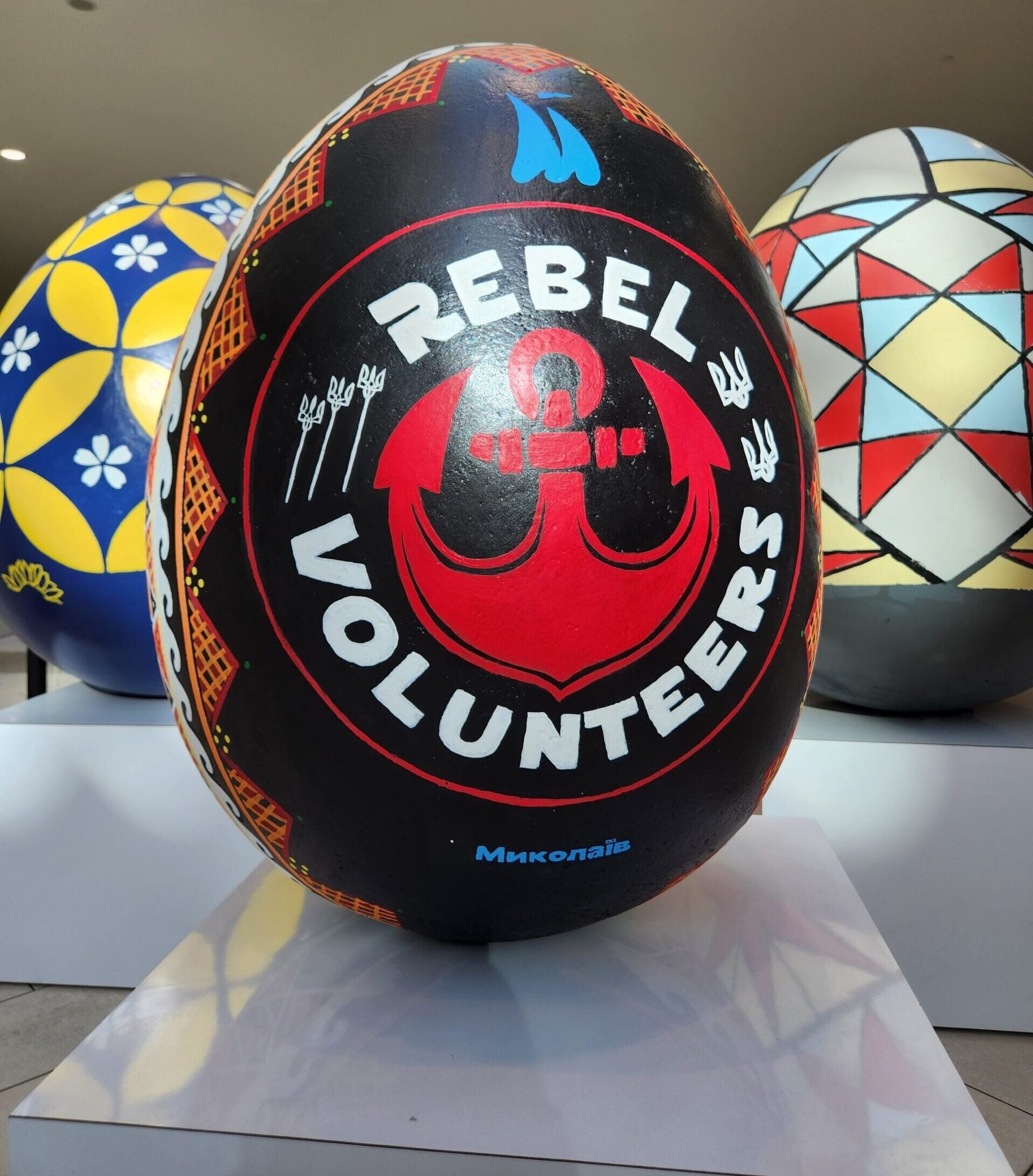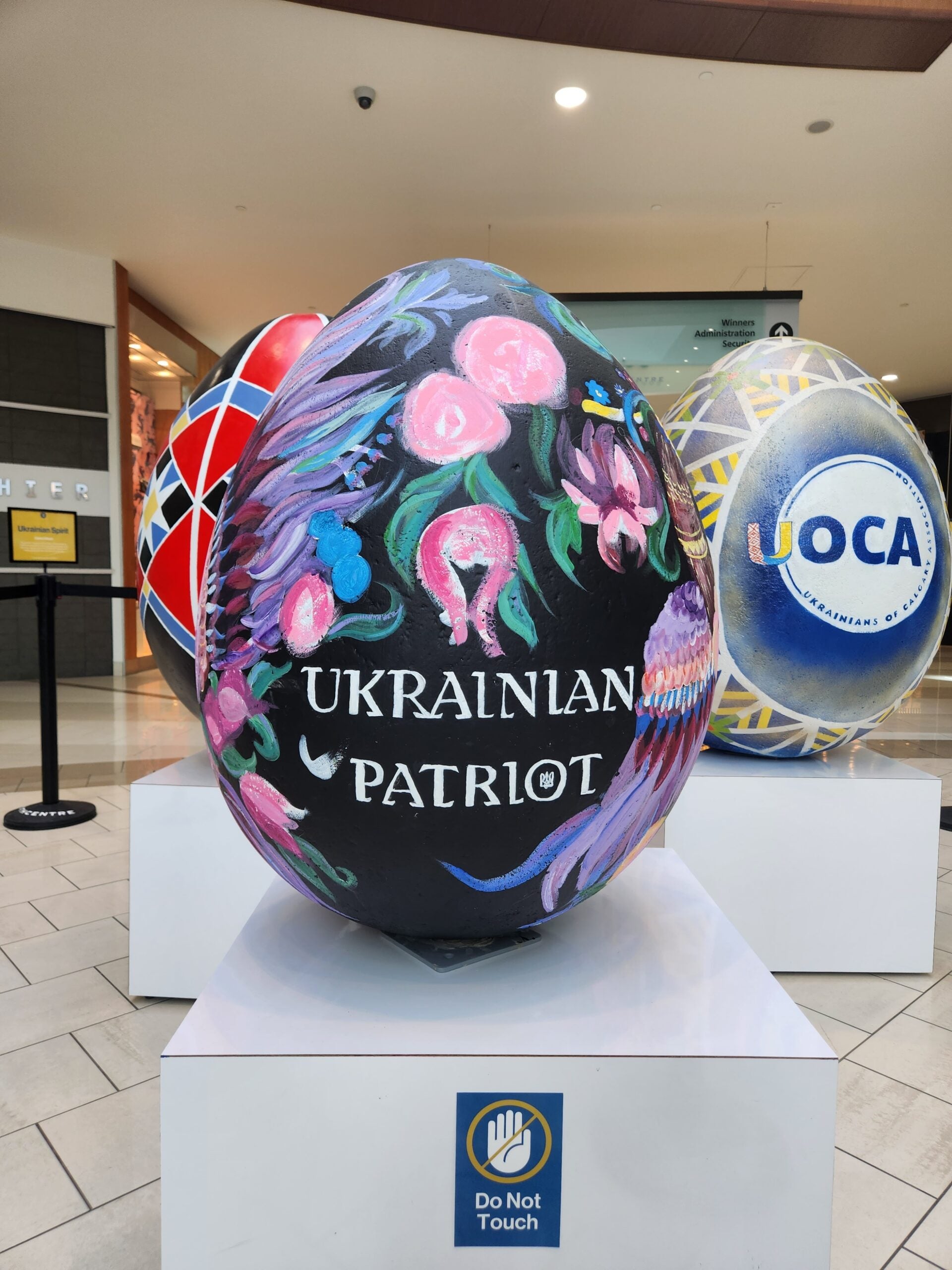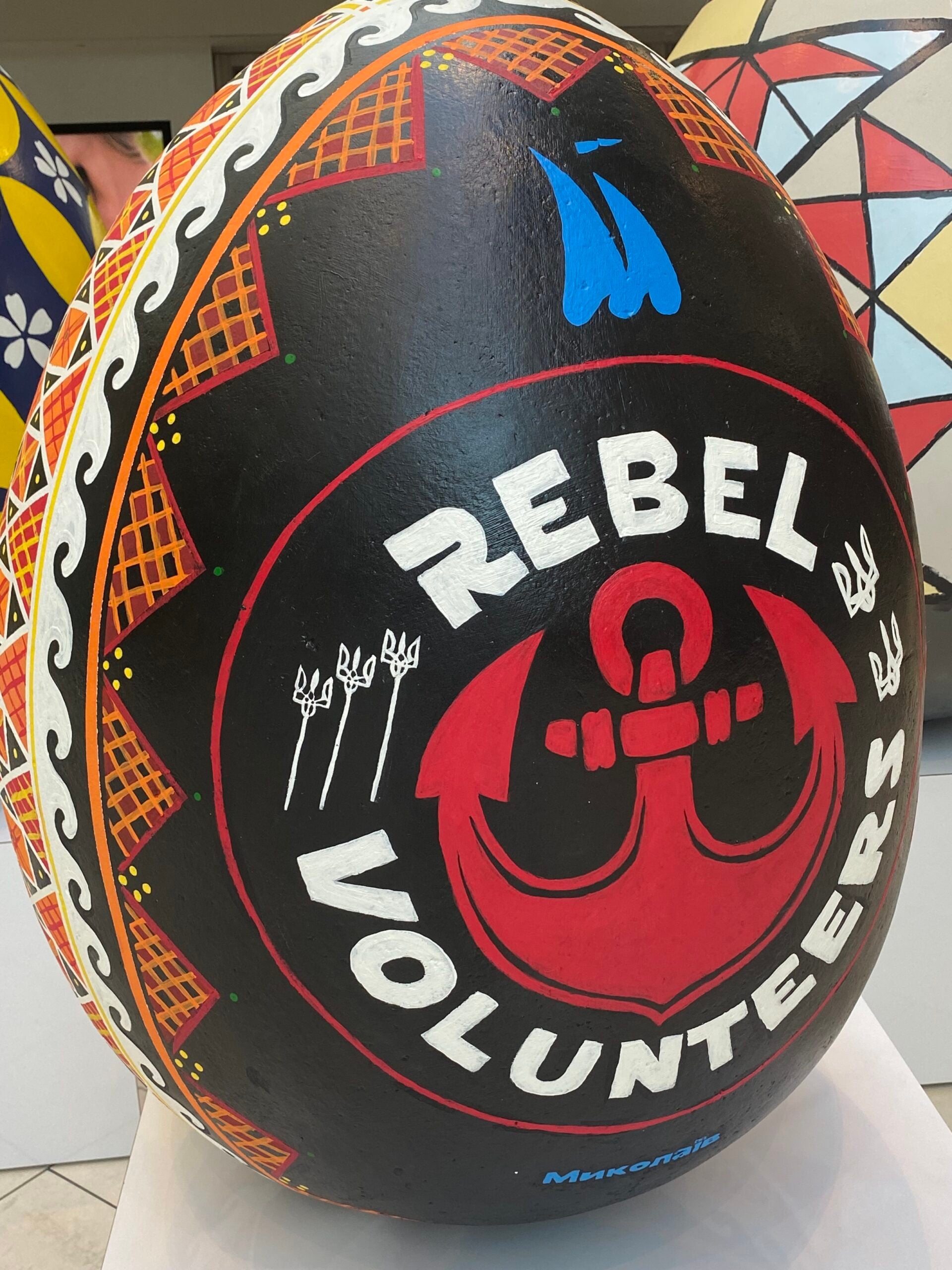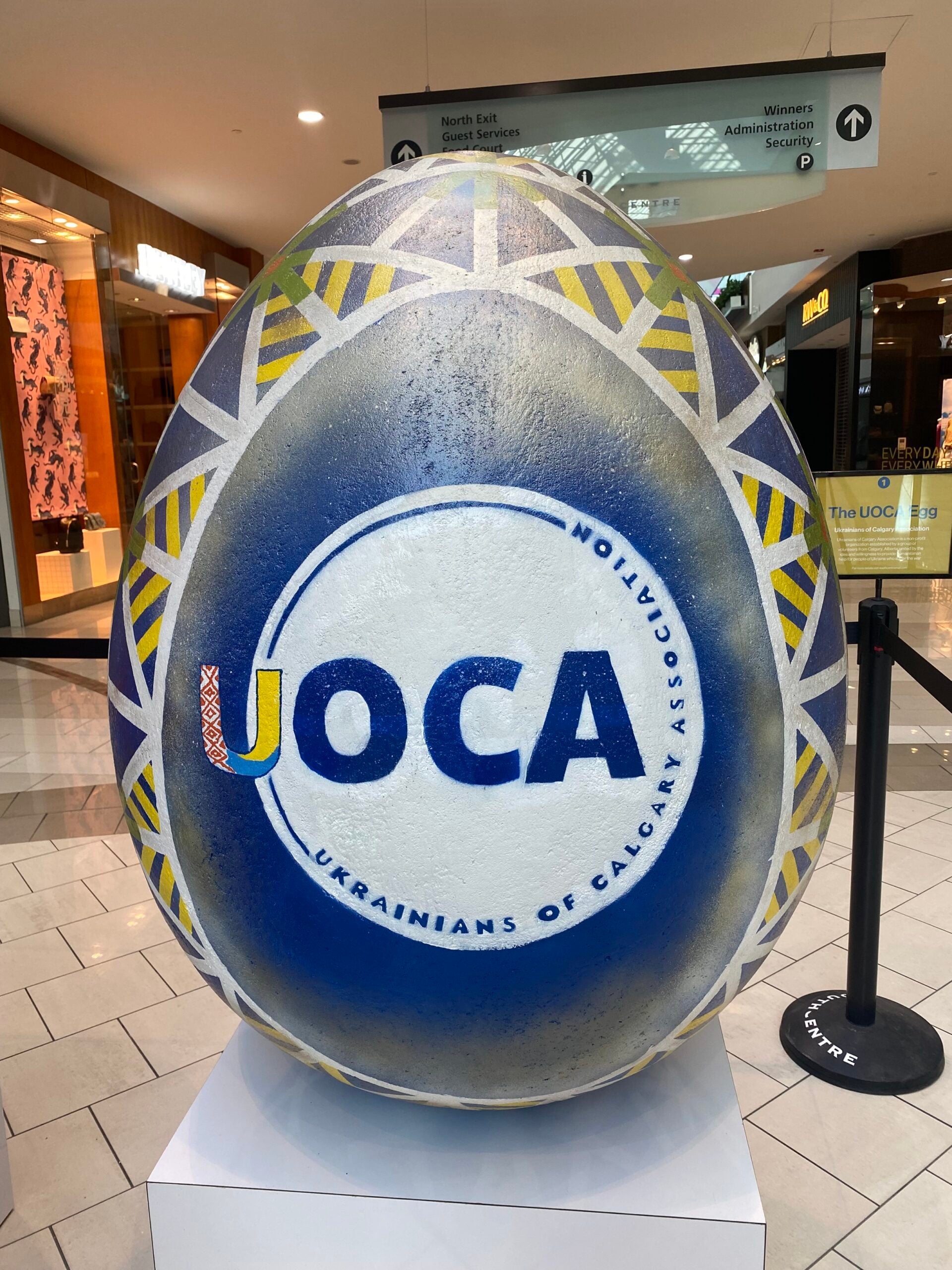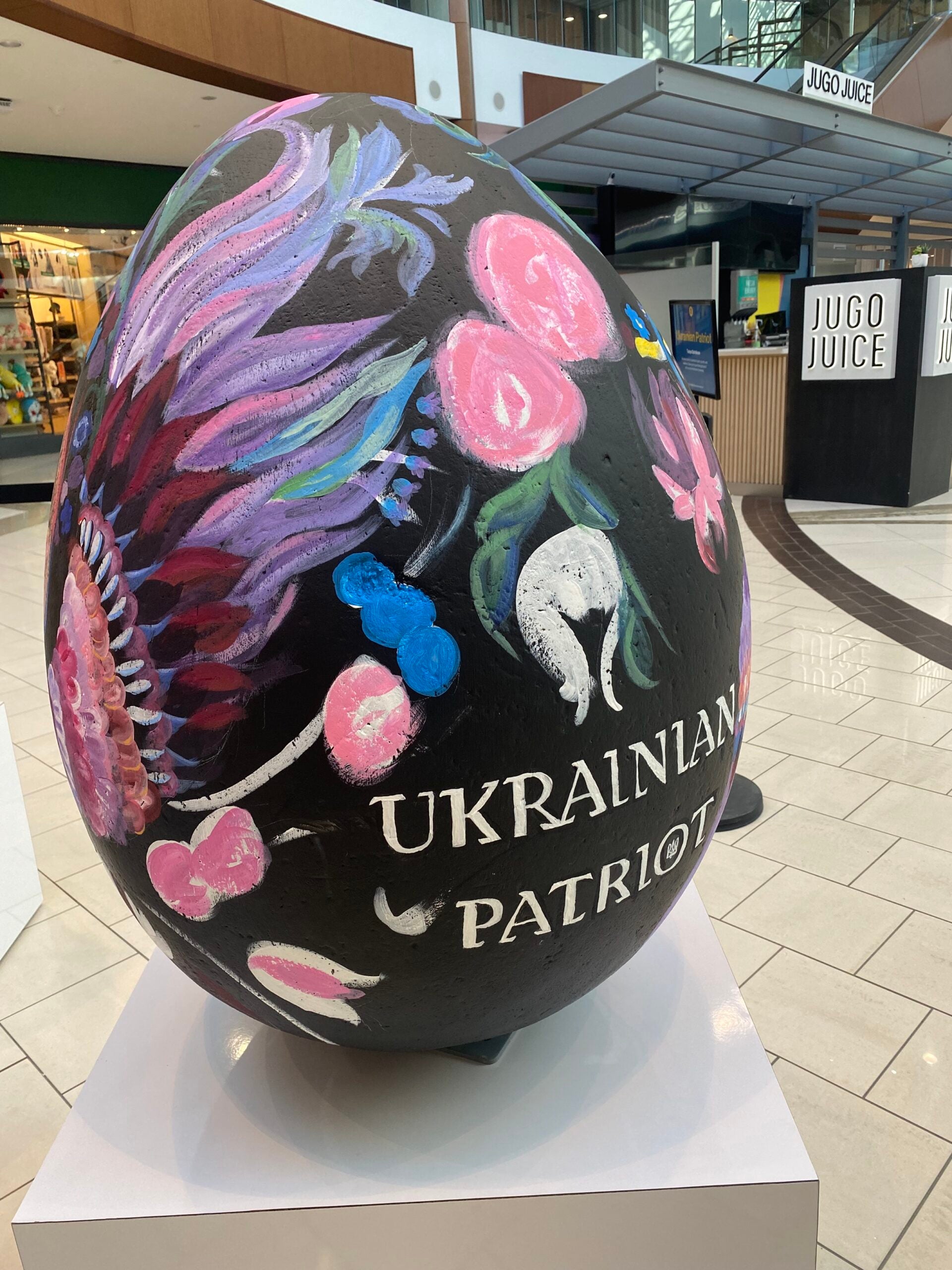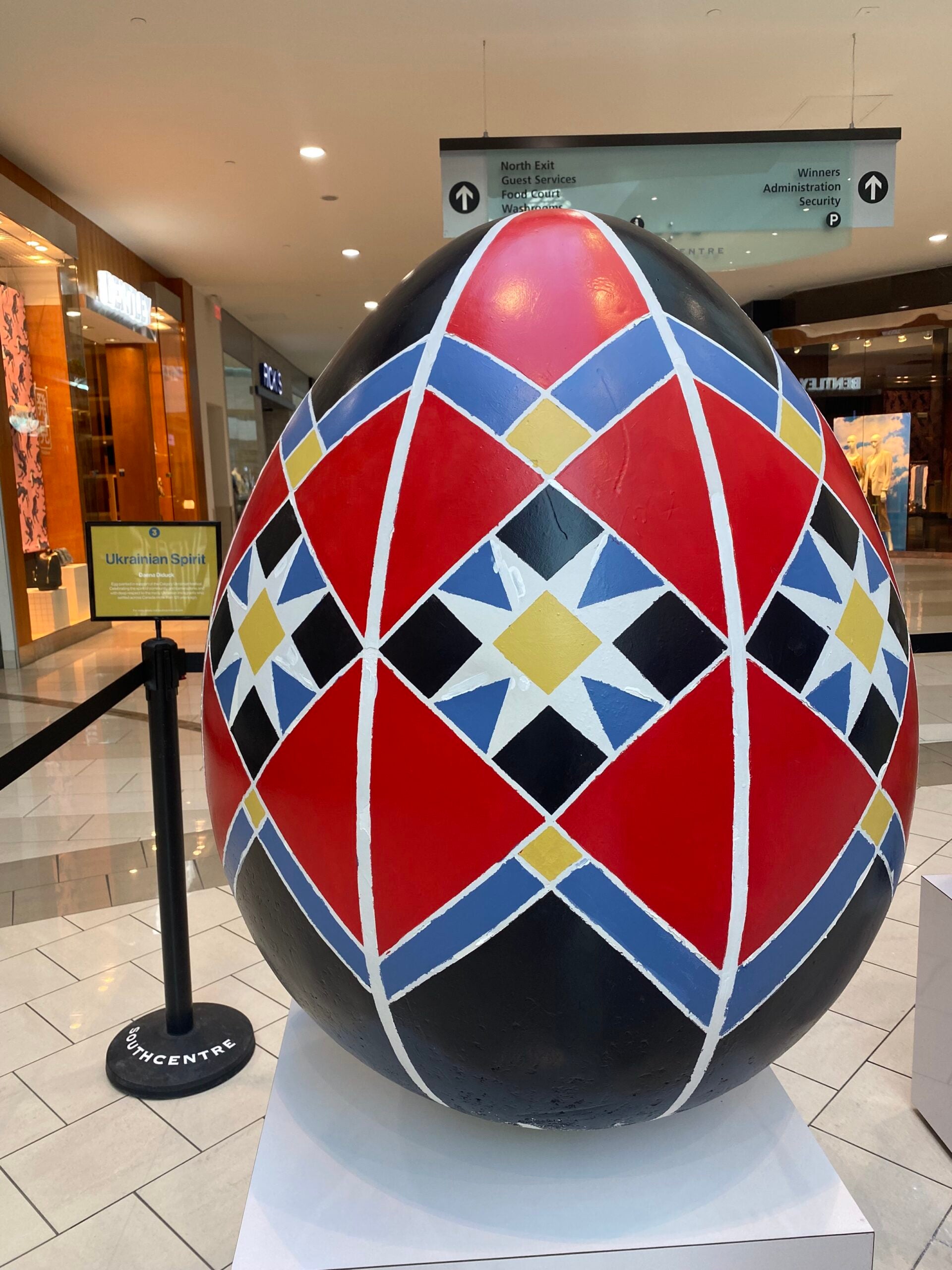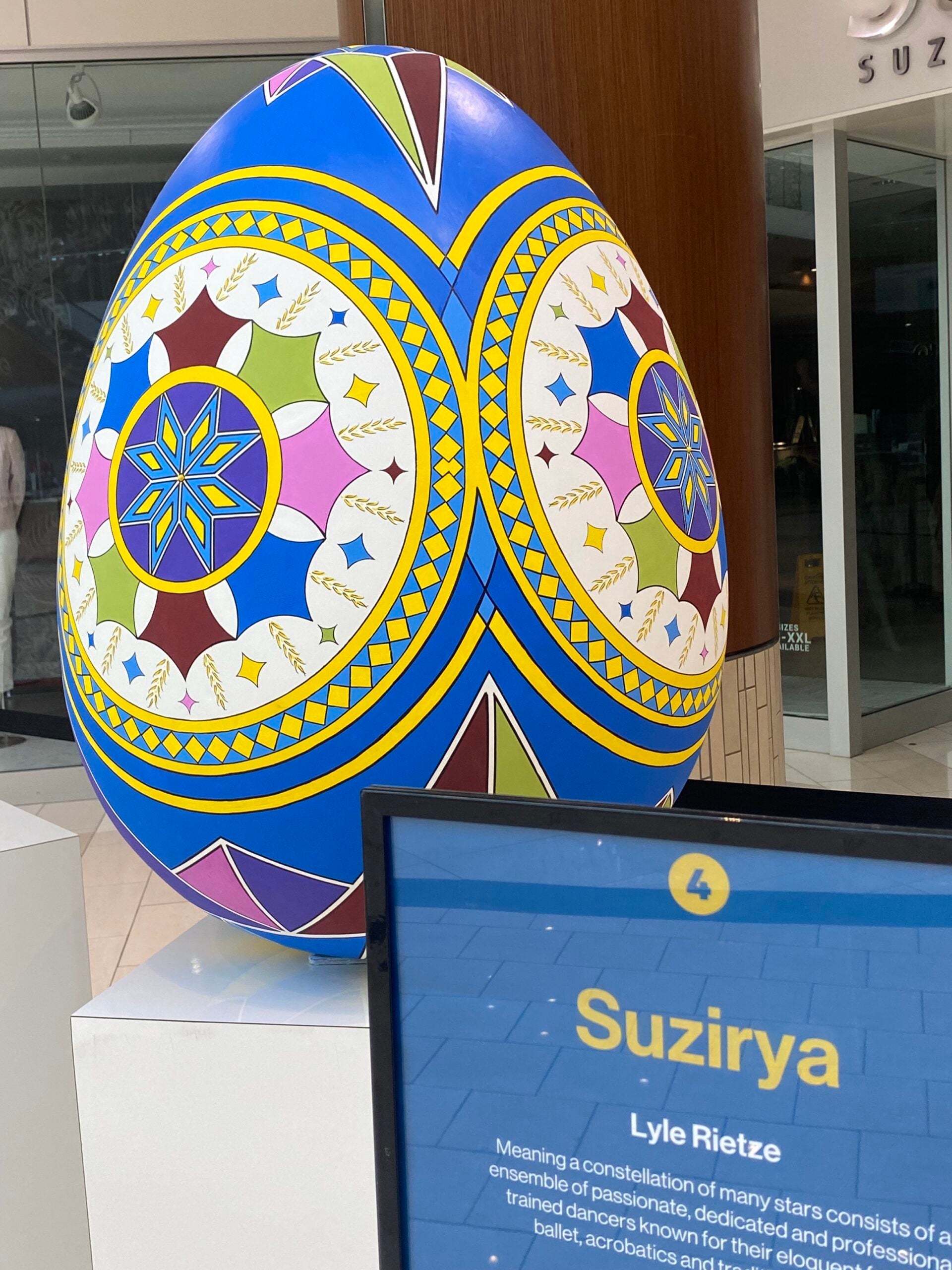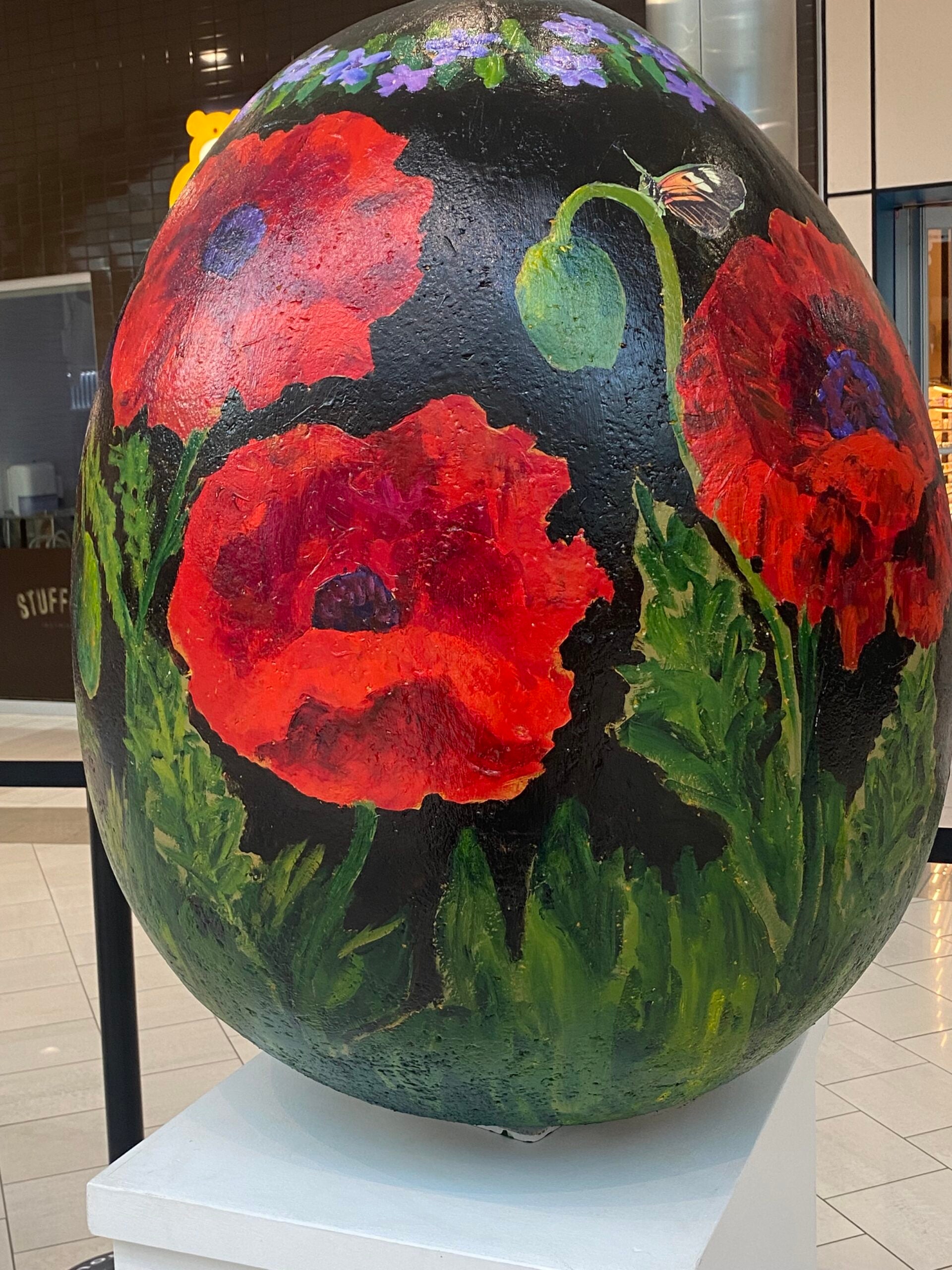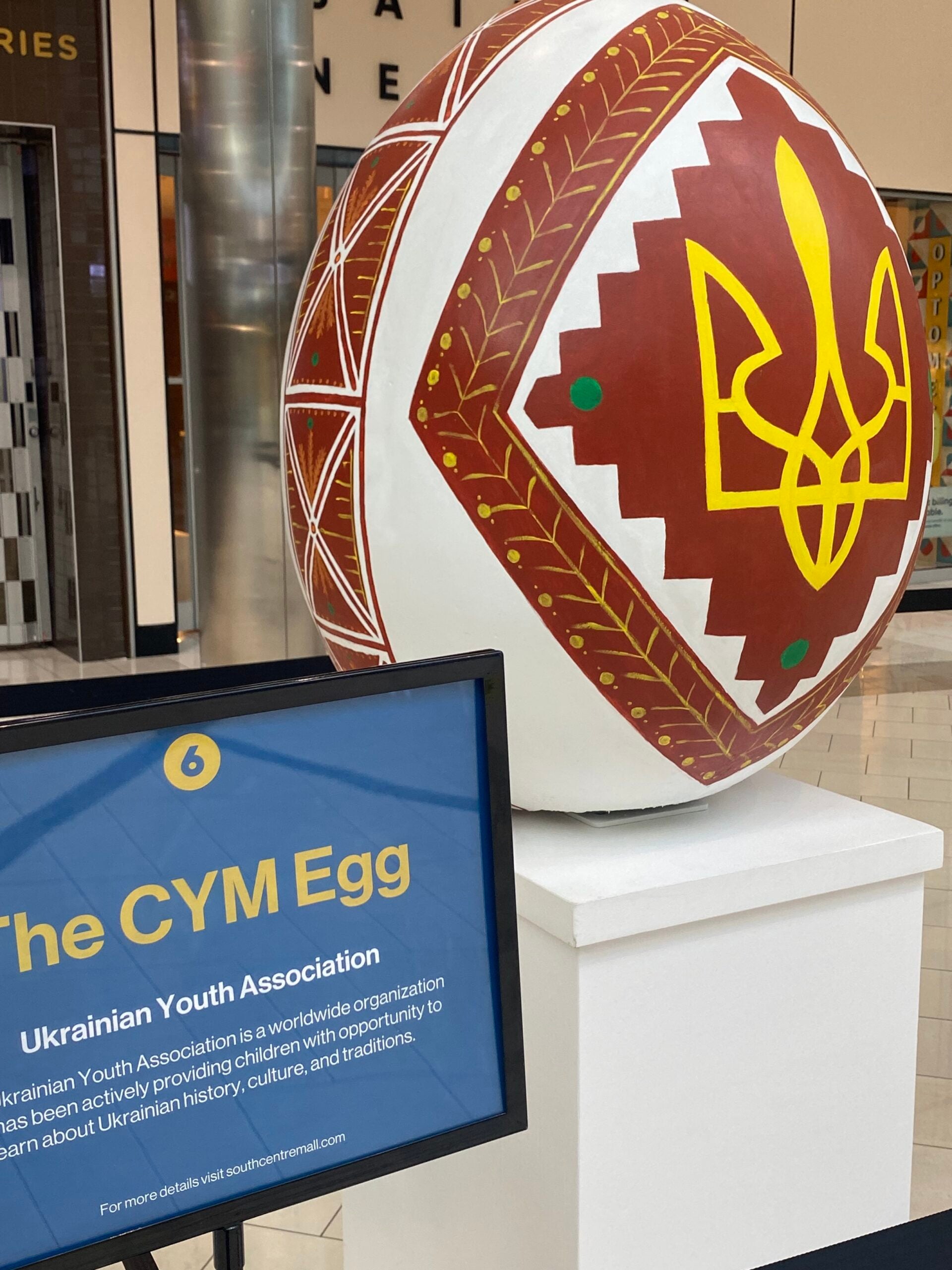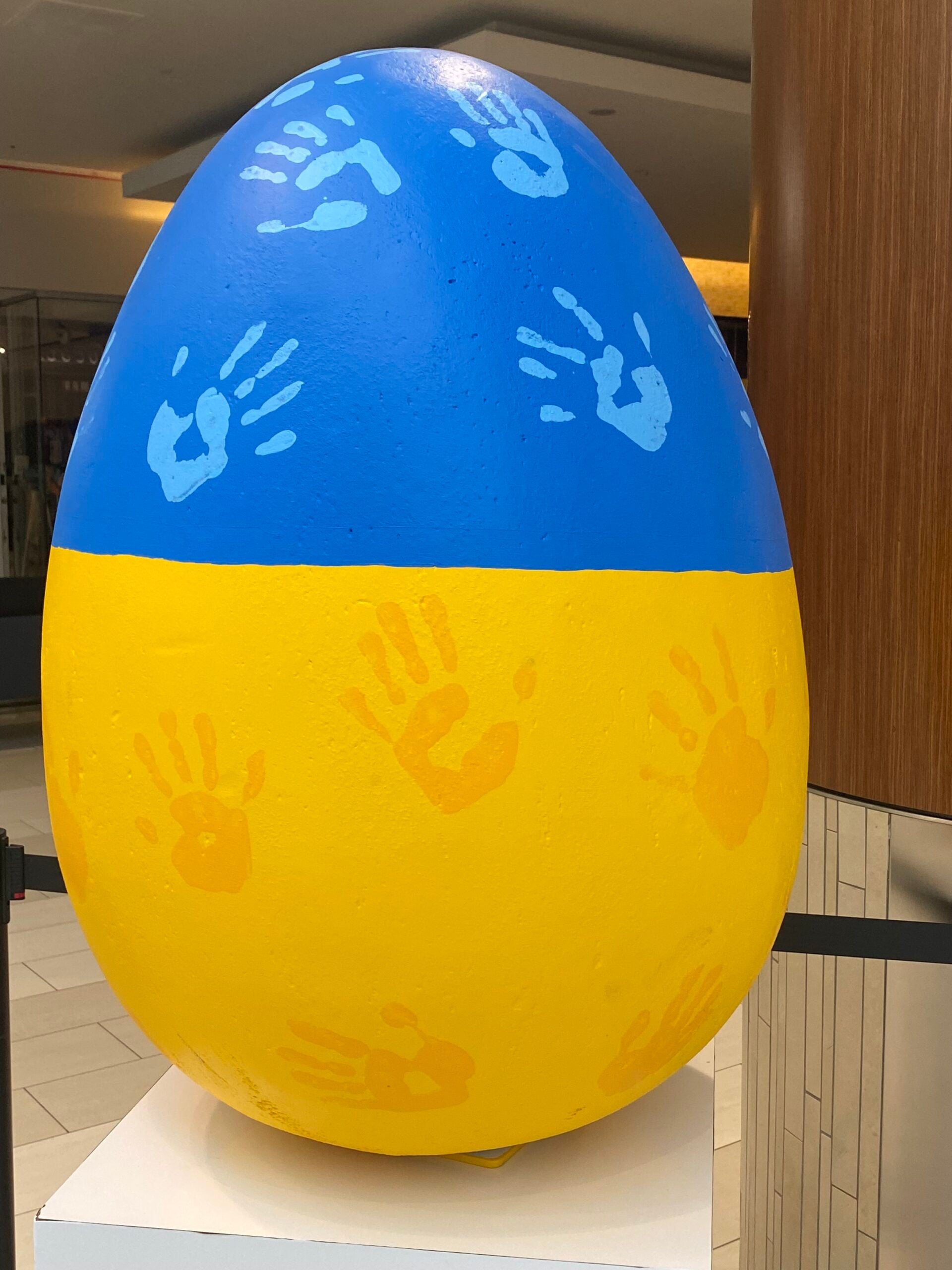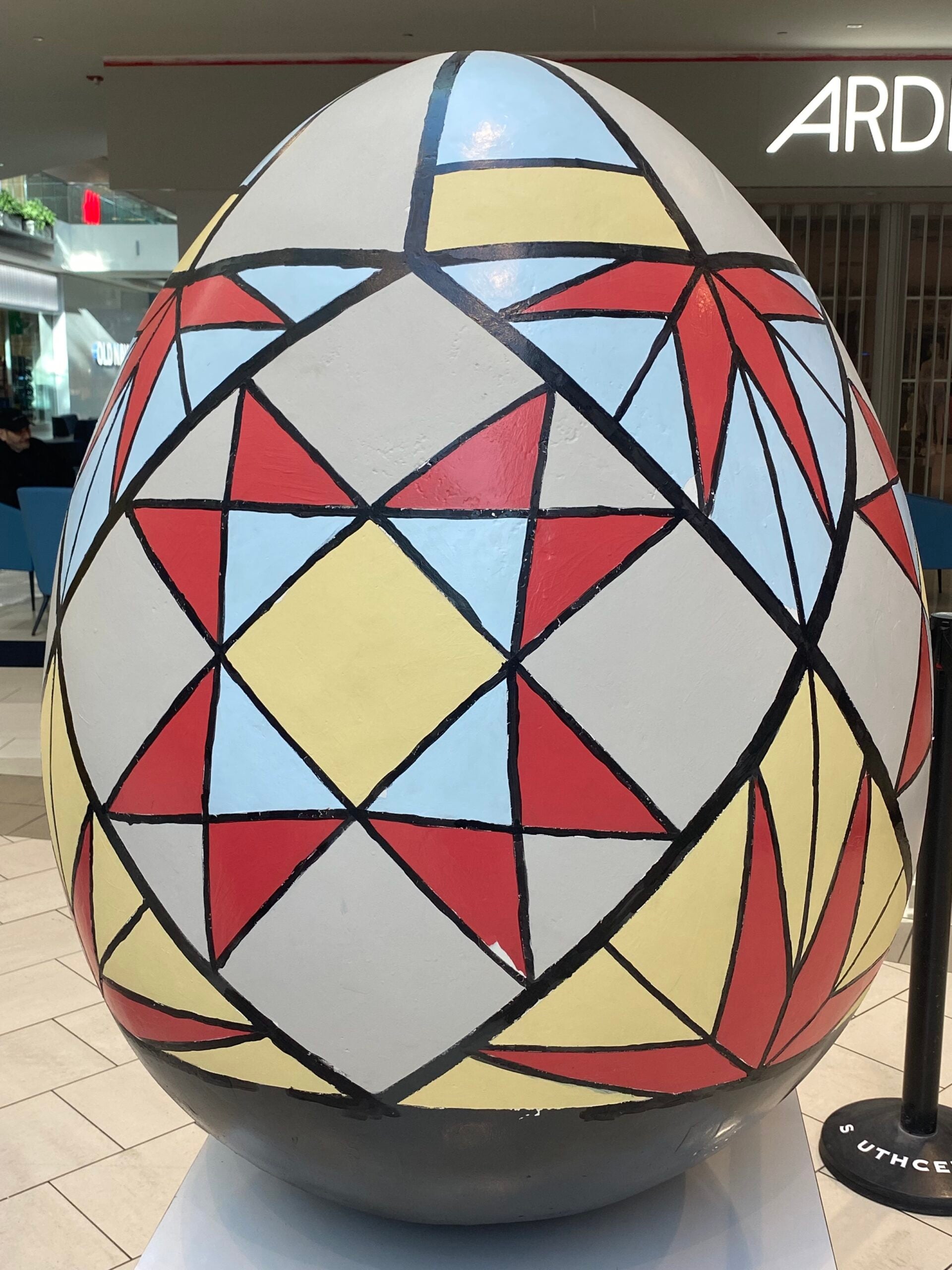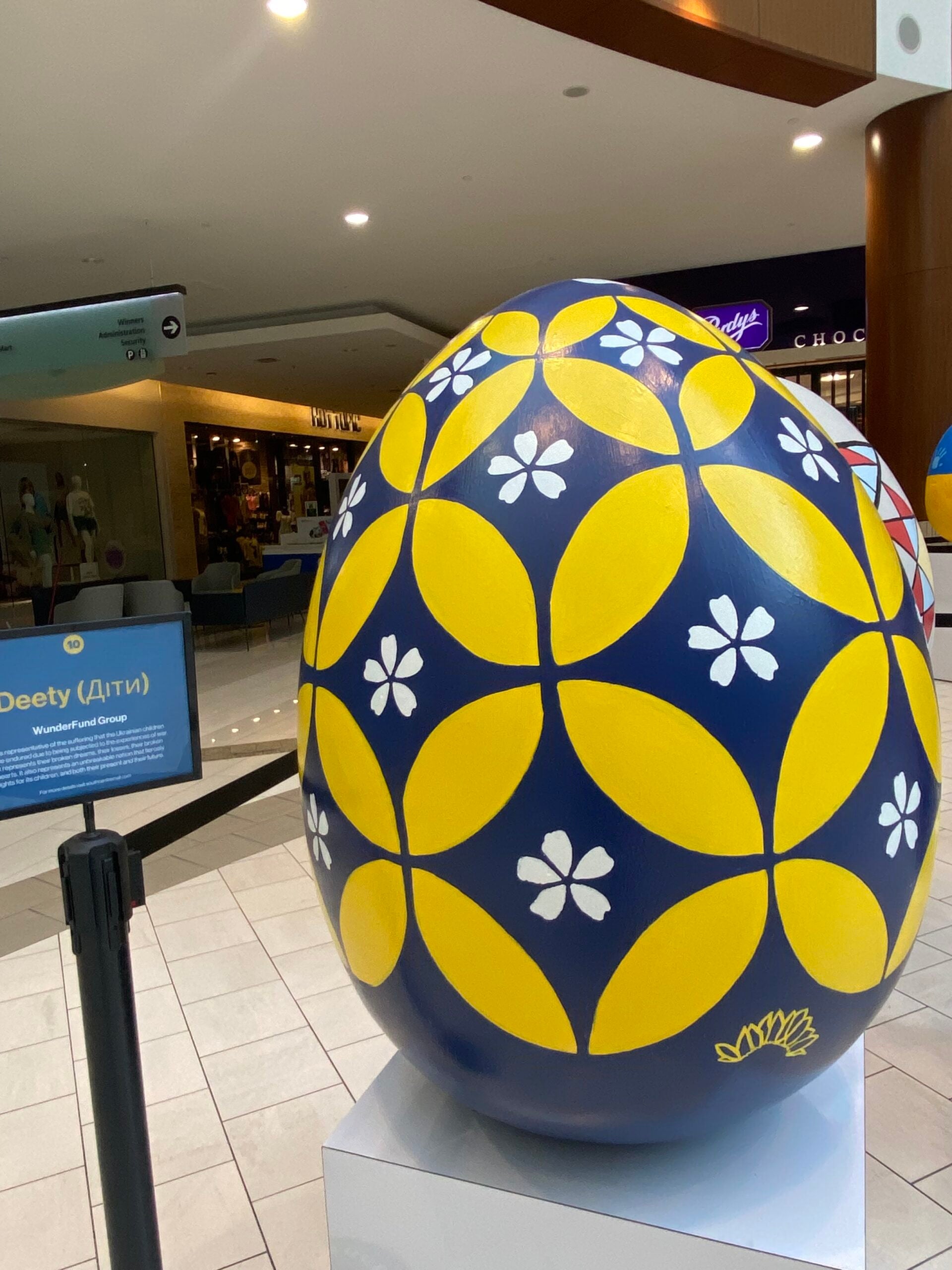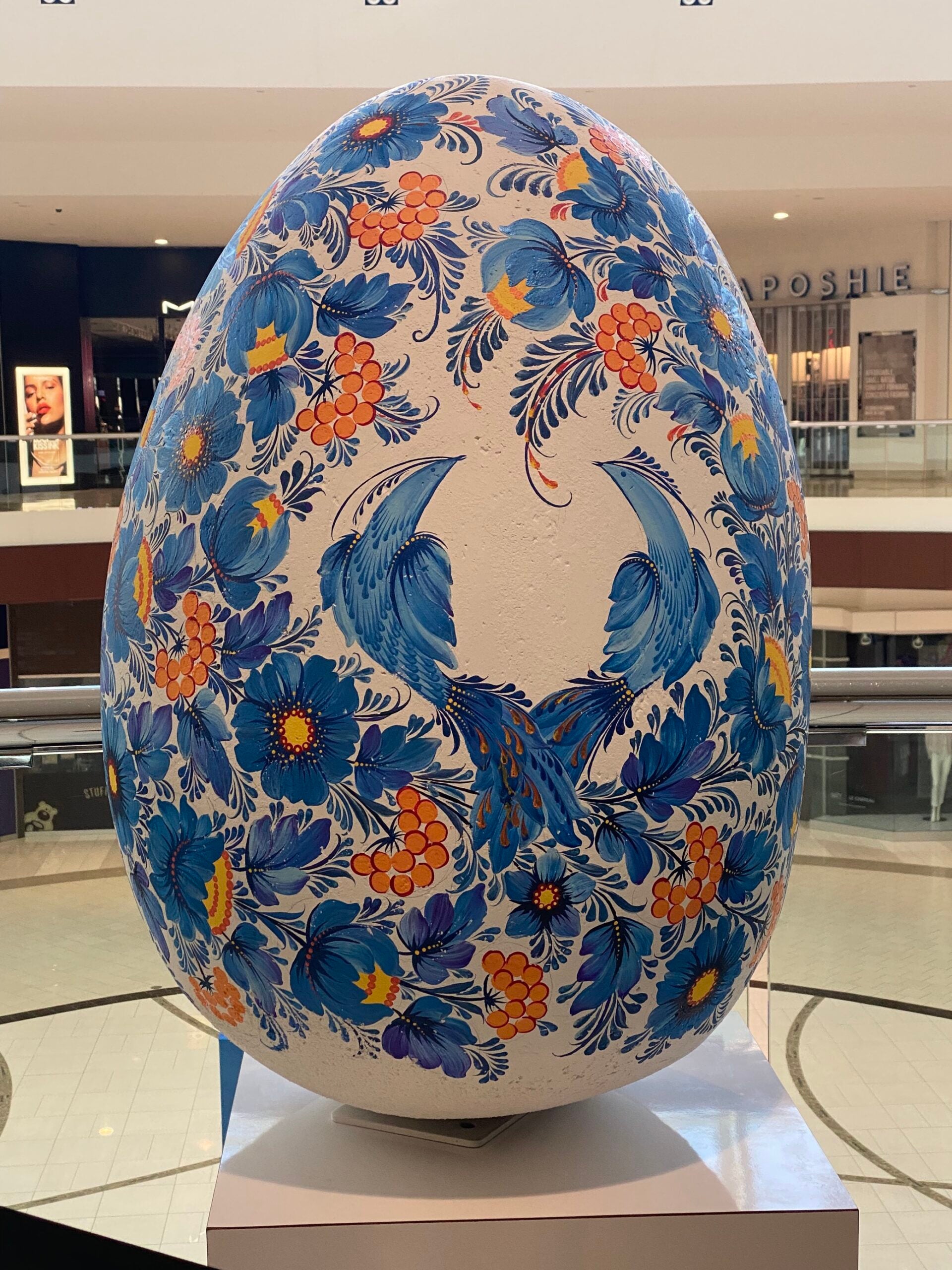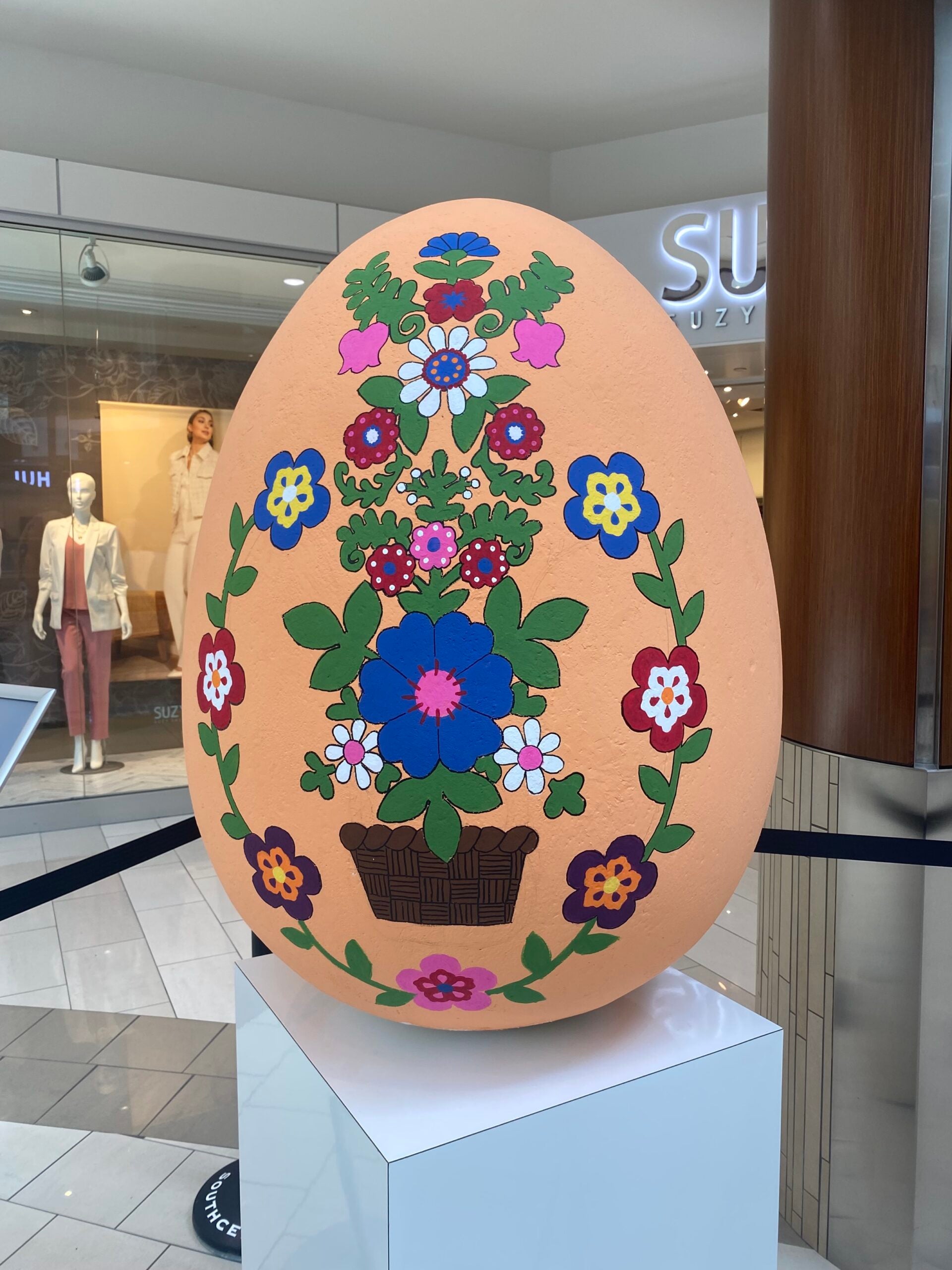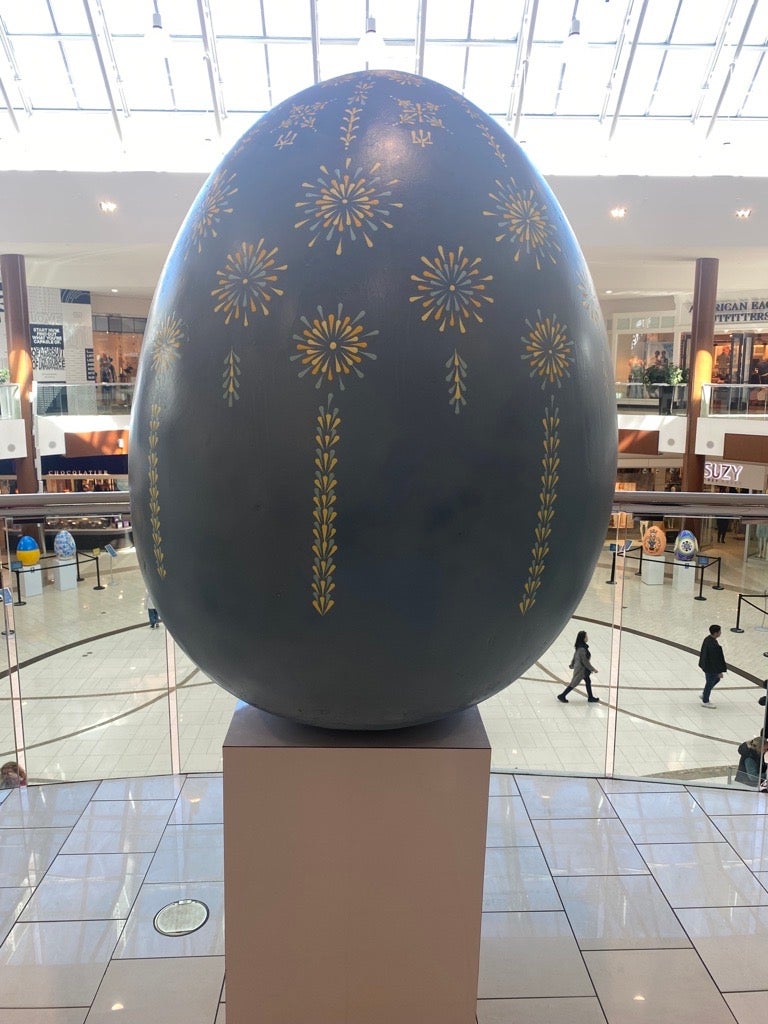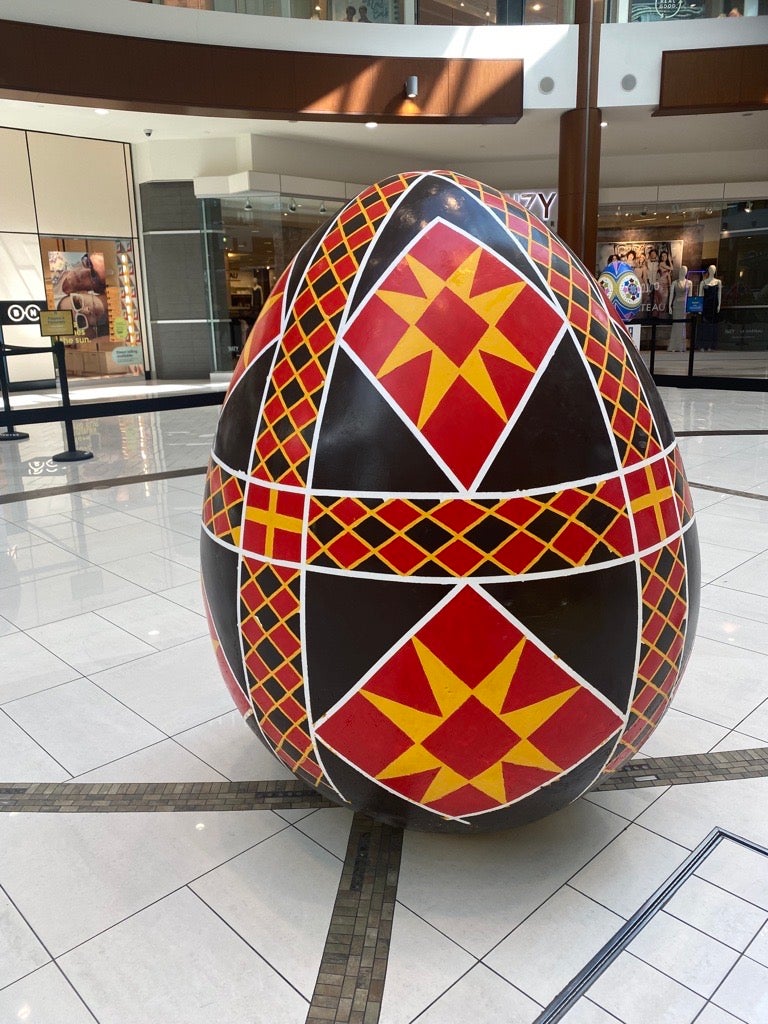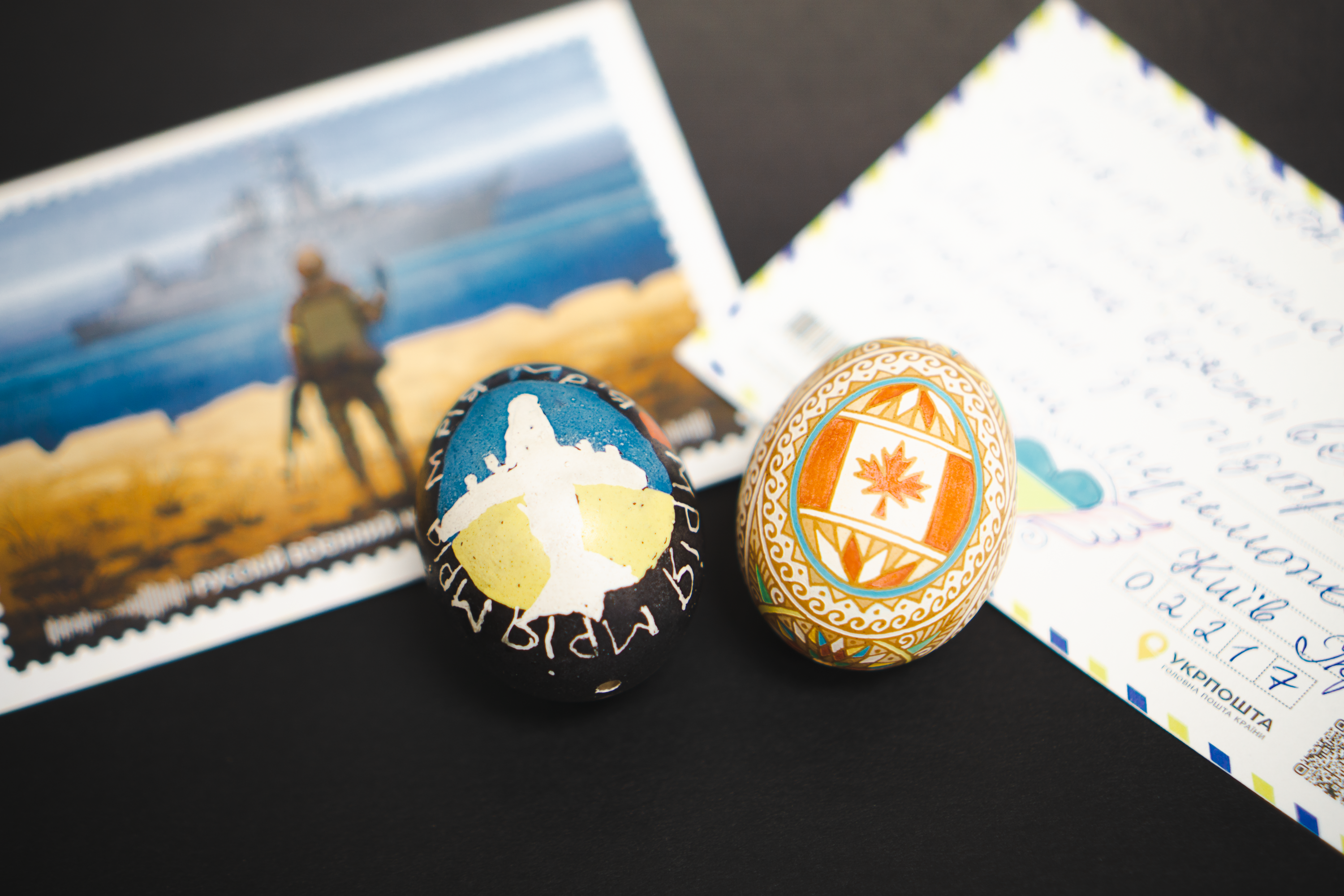 From Kyiv, With Love
We also received 8 eggs decorated by Tatian Alexiev, a teacher, and her group of students in Kyiv. These regular-size eggs included a note that reads: "Glory to Ukraine! We are very grateful to all countries for their support. Together we will be victorious".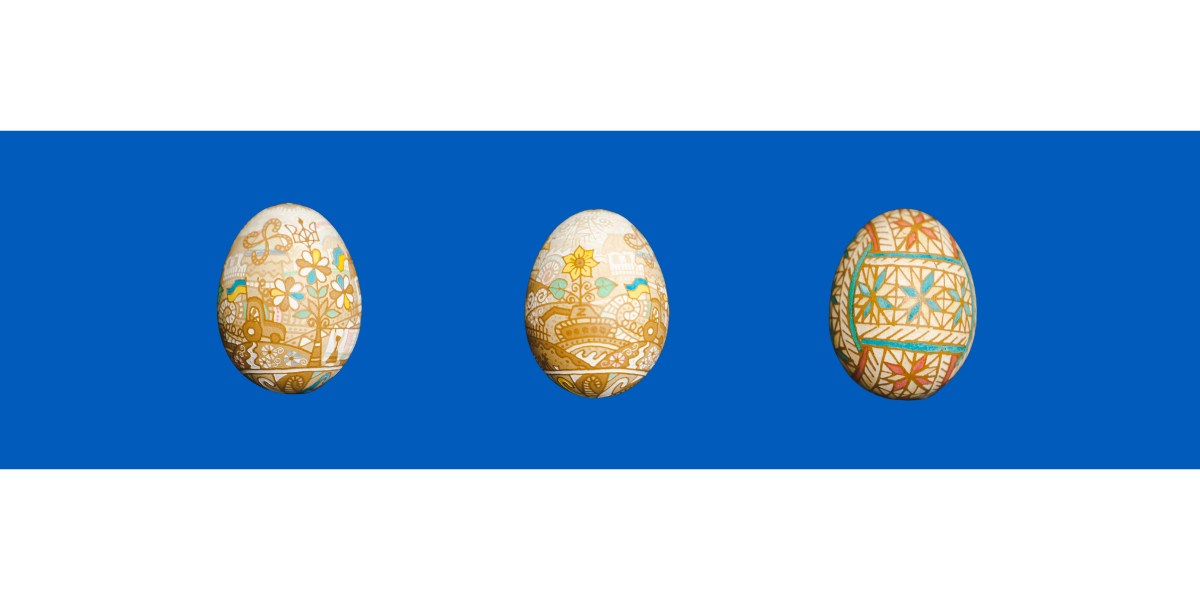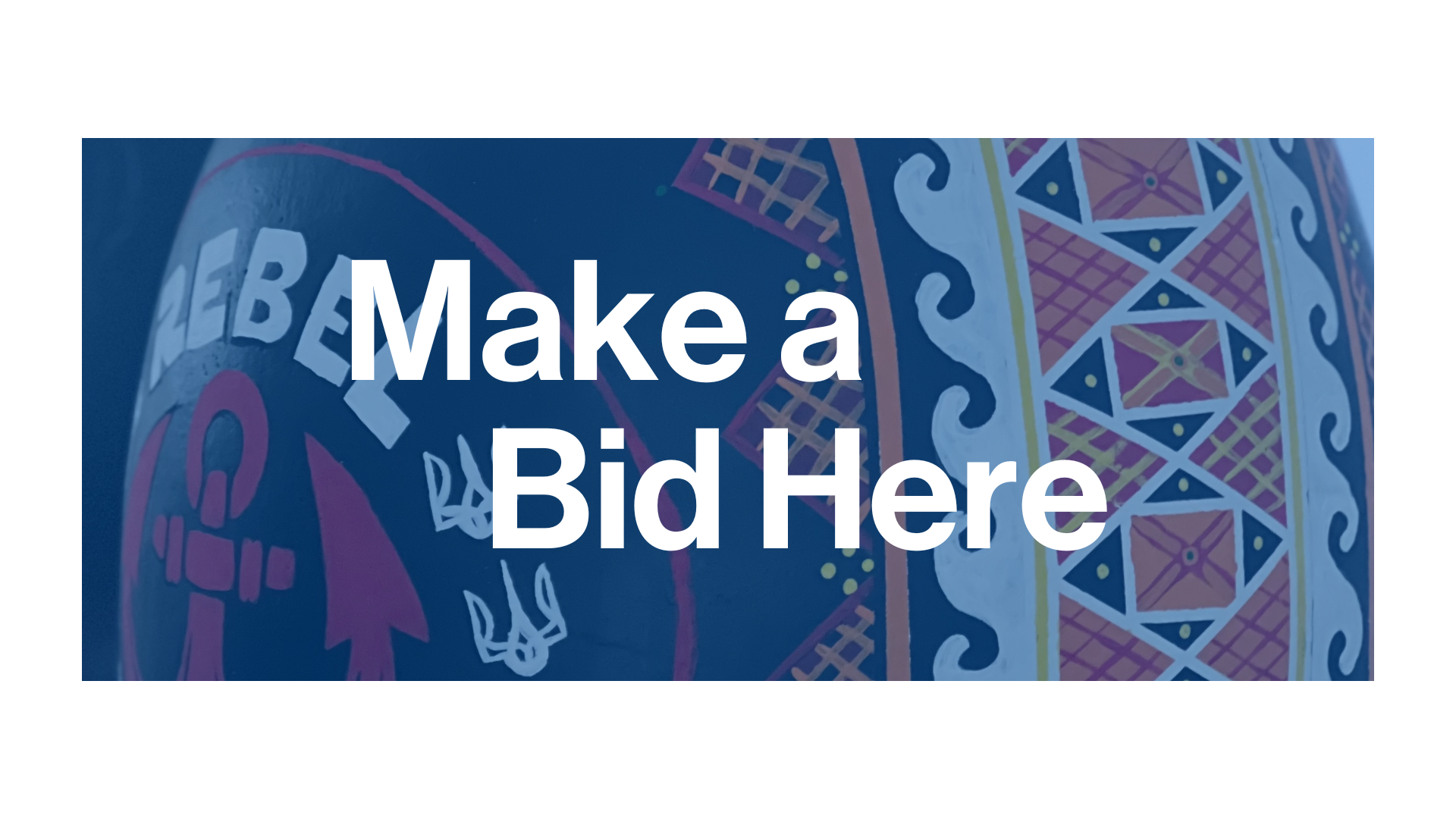 What are Pysanky?
Let's begin by introducing you to pysanky! A pysanka (plural: pysanky) is a Ukrainian Easter egg, decorated using beeswax and dyes. The word comes from the verb pysaty, "to write", as the designs are not painted on, but written with beeswax.

It is said that the Hutzols-Ukrainians who live in the Carpathian Mountains of Western Ukraine believe that the fate of the world depends upon the pysanka.

As long as the egg decorating custom continues, the world will exist. If, for any reason, this custom is abandoned, evil will overrun the world. If the number of pysanky created each year is low the chains of evil are loosened, and evil is free to wander the earth causing havoc and destruction. If, on the other hand, the number of pysanky has increased, the chains of evil are tightened, and good triumphs over evil for yet another year.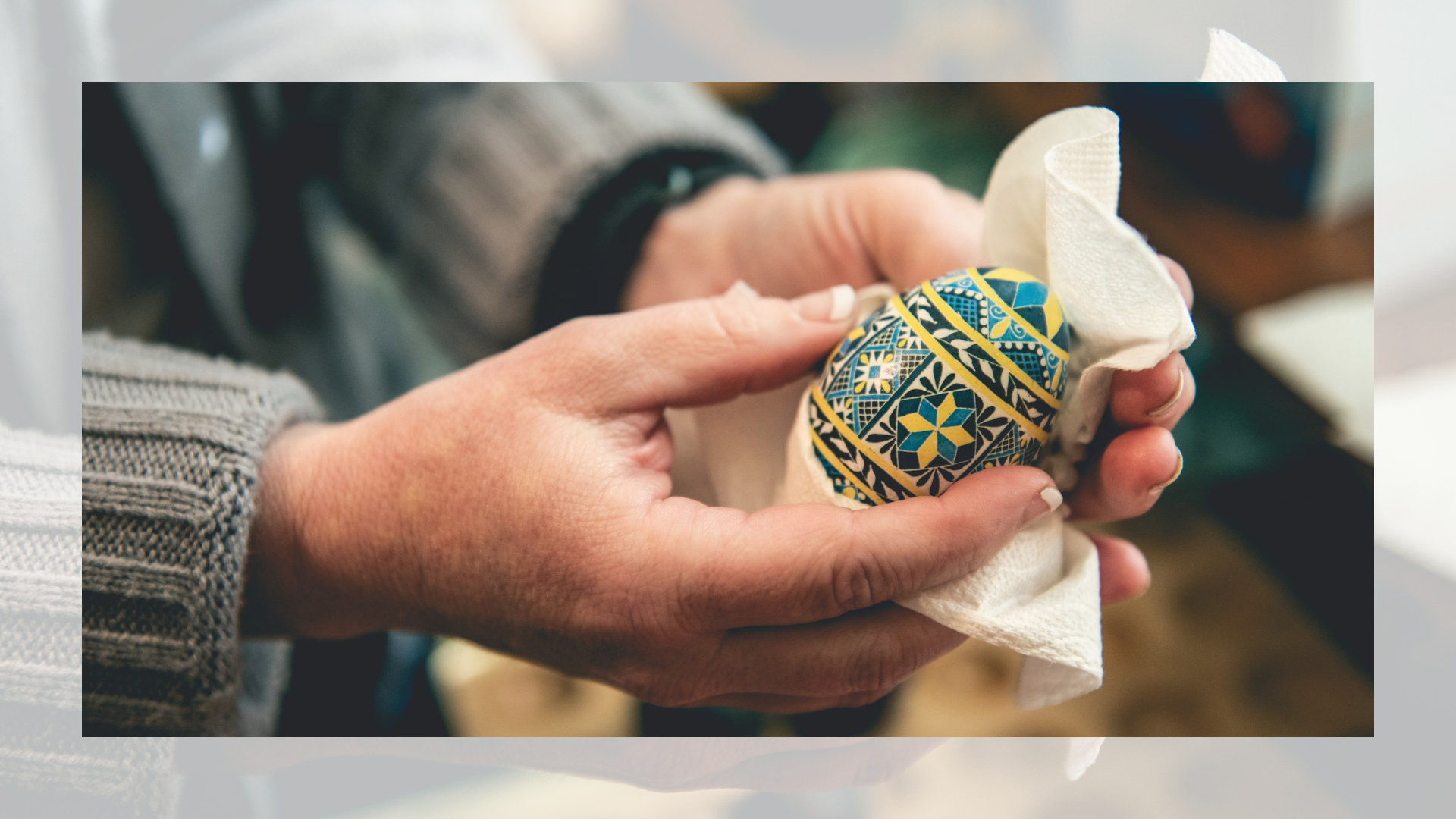 Why Pysanky Matter
The 14 pysanky eggs, ranging in size from three to six feet tall, represent the 14 months since the war began and will be painted by local Ukrainian cultural groups and artists, some of whom have come to Calgary over the past year to escape the conflict in their home country.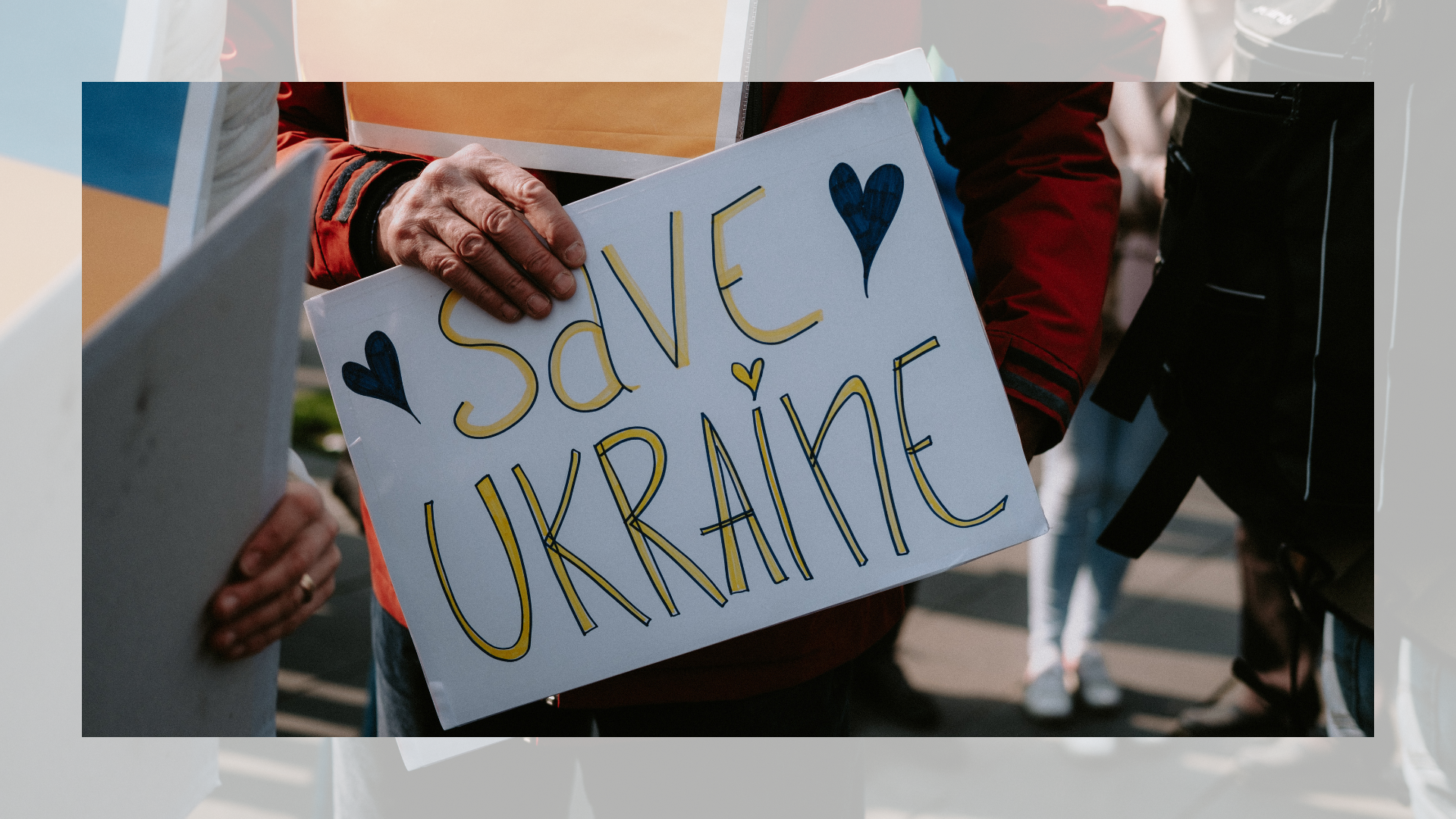 Meet our Artists
Meet the artists behind our larger-than-life 14 pysanky eggs located throughout Centre Court. The artists will be supported by pysanky specialist and lead artist for the campaign, Daena Diduck. Calgarians will be able to explore the final designs in Centre Court from April 5th to April 30th during mall hours.
Daena Diduck
Daena has been writing pysanky, the art of Ukrainian Easter eggs since she was a little girl. She attended a Ukrainian Bilingual program in school where she learned more about her heritage, Ukrainian culture, language, and the art of writing pysanky. The word "pysanky" originates from the Ukrainian word "pysaty" which means "to write." Both sides of Daena's family are Ukrainian, and they came to Canada from western Ukraine during the first wave of immigration to Canada. Daena went on to work at the Ukrainian Museum of Canada in Saskatoon, where she taught many classes for the museum and displayed her work in the gift shop.
Daena moved to Calgary in 2005 and has since taught classes at various schools and community groups and participated in demonstrations at the Calgary Ukrainian Festival and the Calgary Farmers Market. Daena was also part of the Ukrainian Museums' Pysanky exhibit. Daena's pysanky have also been showcased in Edmonton at the Alberta Council for Ukrainian Arts (ACUA). In 2019, Daena participated in a special tour where various pysanky artists visited Ukraine. Currently delayed, she had plans to return in 2020 for the opening of an exhibition in Kolomyia at the Pysanky Museum, which focused on North American Pysanky.
Kateryna Kryvolap
Kateryna Kryvolap is a Petrykivka artist originally from Ukraine and is now settled in Canada. She was raised and educated in an artistically inclined family. This cultivated in her an early and life-long passion for fine art and creativity.
Petrykivka – a traditional Ukrainian decorative art form was born from a folk art believed to have the magical power to protect from sorrow. Depictions of certain elements such as birds and flowers represented prosperity, harmony, and happiness. It is a unique Ukrainian art form. In 2012, the Ministry of Culture of Ukraine recognized the Petrykivka painting as a part of the intangible cultural heritage of Ukraine, and it was included in the UNESCO Representative List of the Intangible Cultural Heritage of Humanity in 2013.
When creating decorative art, Kateryna goes beyond conventional boundaries, by incorporating techniques and styles of the past and adapting them to the trends and materials of the present. Balanced colorful compositions with attention to small details, using distinctive brush techniques, symbolic motifs and combined with elegant sophistication, tell the stories of the artist's self-expression, creativity, and aesthetic taste.
The perception of art is diverse and multi-dimensional. Art appeals in so many ways to us. Thus, people of different nationalities and countries collect Kateryna's original artwork not only for its decorative purposes but also to possess a timeless heritage of this delightful and rare art form. Her customers come from all corners of the world – from North America, Europe, Asia, and Australia. Kateryna's work has been in prestigious exhibitions in museums and galleries across the world.
The Ukrainian Youth Association
The Ukrainian Youth Association is a worldwide organization established over 90 years ago in Ukraine. The Calgary branch of UYA opened over 75 years ago and has been actively providing children with the opportunity to learn about Ukrainian history, culture, and traditions. Every year before Easter the youth make traditional Ukrainian Easter eggs – pysanky. They were excited to have an opportunity to make an oversized easter egg and have it on display to be enjoyed by all Calgarians. Some parents and UYA counselors were thrilled to join the children in the giant pysanka project – Oleksandr Lalyuk, Taras Voytkiv, Robert Plishka, Sviatoslav Plishka, Sofia Zozuliak, Sofia Zagirska, and Nataliya Melysh.
Tatianna O'Donnell
While contemplating what to paint on her 3-foot pysanka, Tatianna knew she would lean towards a more contemporary vision, and what came to mind was poppies. Tatianna also knew she would come to the Pysanka painting like it was a large canvas. Poppies are a common sight in any Ukrainian village. They are grown in profusion near every house, and small poppies grow wild in the fields in summer.
In Canada, the crimson poppy was adopted as the national symbol for commemorating the end of World War II and the countless sacrifice of human lives. In 2015 Ukraine too adopted the poppy as a symbol of remembrance. Before that, there was a Soviet Union style of remembrance. 
According to old Slavic traditions, poppy seeds symbolize abundance and fertility. And are served in many Ukrainian dishes, the most famous being Kutia, a Christmas Eve specialty. Periwinkle symbolizes loyalty, love, and purity. Rituals, including wreath weaving, in the old days, were part of the wedding ceremony and were very important. The wreath was styled like a vinok to be worn by the bride and groom.
Phaedra Vandenbrun
Phaedra is a mixed-media artist with a focus on using textiles and other mediums.  Her work is inspired by folk tales and the supernatural, themes often portrayed in art traditionally made by women.
This egg shows a Motanka on one side, a doll made entirely by winding thread around rolls of fabric to bind the pieces together.  She is used to protecting the home and family.  The other side is similar to "The Tree of Life" pattern found in many cultures depicted in embroidery or applique.
Lyle Rietze
Lyle Rietze recently retired from a 40-year career in the petroleum industry where he specialized in graphic arts. He was introduced to the art of Pysanky Writing by his dear friend, Noella Ostash, and has been a writer for over 12 years. He calls himself a "Ukrainian by marriage" and spends many hours volunteering within the Ukrainian dance community
Yalenka Group
Yalenka Ukrainian Dancers Society – School of Dance, a Calgary-based non-profit charity run by volunteers, is dedicated to sharing a passion for Ukrainian dance to audiences across Canada and the world.
Yalenka Ukrainian Dancers Society's mandate is "to teach Ukrainian dance in an environment that promotes commitment, discipline, self-confidence, as well as love for and enjoyment of Ukrainian Culture."
"Hands of Hope" – Inspired by the blue skies and golden wheat fields of the Ukrainian flag, this egg is a representation of our dance community lifting up the hearts of Ukrainians who are experiencing hardship by continuing to share and celebrate Ukrainian culture. Yalenka's Egg was created under the direction of Tara Schweigert. Tara brought together our community of dancers to work on this project as a group.
Tanya Sotnikow, Vitaly Podlessky, & Anastasiia Liubymova
A volunteer group in the Ukrainian shipbuilding city of Mykolaiv known as the City on the Waves, in southern Ukraine. It is the hometown of the newly arrived. professional dancers Vitaliy Podleskyy and his wife Anastasiia Liubymova who felt the need to help from afar. With the assistance of local Ukrainian artist, Tanya Sotnikow, they have dedicated their time and efforts to help support the Rebel Volunteers with this pysanka.
The Rebel Volunteers are a group of ordinary people in the fields of IT, art, fashion, design, pharmacy, electrical engineering, and craft brewery who have joined together to help provide necessities from medical supplies, tactical equipment, hygiene, products, food, first aid kits, and other humanitarian supplies to the Armed Forces of Ukraine, the front defenders and every day citizens in need. Where there is a necessity, you will find the Rebel Volunteers. The central logo is supported by the strong symbolism of the netting which sifts good from evil, and right from wrong in the colours of orange representing endurance, yellow for youth, community, and family, and red for strength, passion, and love. The dots represent blessings, yellow for youth, community, and family, and green for Hope, the eternal lines of the waves represent the meeting of the opposites, resolution of problems,  immortality, and with the purity of white, and the darkest before dawn in black and the waves of harmony for Mykolaiv.
Tryzub is the national symbol for Ukraine, representing Freedom, the Love of Freedom, and the will to fight for Freedom. Click here to learn more!
Ukrainians of Calgary Association
Here is a note from a member of the UOCA:
Hello!

My name is Olena and I am from Ukraine.

More than a year has passed since the day my heart was shattered. On that horrible morning, when my country was peacefully sleeping, I watched the bombing of large Ukrainian cities by Russian missiles on all the news. Desperation took my breath away, my brain could not comprehend what I saw and refused to believe it…

But it was real.

The realization that Ukrainians are dying in these hourses, that the next rocket will hit my relatives and friends, and I am here in Canada, on the opposite side of the Earth, caused me to have a panic attack. Despair was eating away my brain and tearing my heart into pieces.

All night we called family and friends and monitored the news from Ukraine and the whole world.

And in the morning, the collection of emergency aid for Ukraine was announced.

Three days without sleep… We volunteered to sort the aid that people brought in an endless stream. It helped to disconnect from the terrible grief and sadness. There was so much help that we had to close the collection. On the third day of the war, we sent the first humanitarian aid plane together with Edmonton.

This is how our initiative group was formed, which later named itself as the Ukrainians of Calgary Association. In three days, we understood how we can help Ukraine. The war continues.

Ukraine continues to drown in the blood of civilians and our heroes-defenders. We continue to our volunteer activities, and our Easter egg invites you to join.

Support UOCA

Glory to Ukraine! Glory to heroes!
WUNDERfund Group
WUNDERfund is a multicultural group of individuals, based in Canada, who are committed to advocating for peace and supporting victims of the ongoing war in Ukraine. They are dedicated to the restoration of peace and direct 100% of their proceeds toward that goal by providing relief to those closest to danger. They are a volunteer team, called to action by a friend who emigrated to Canada from Ukraine, who maintains ties to her country of origin, and who is also a Canadian Forces veteran. WUNDERfunds products are designed and created by volunteers who stand for peace. Many of their designs and handmade jewelry pieces have been crafted by youth volunteers in our community! All proceeds are used to fund defensive and humanitarian efforts on the ground in Ukraine.